The Branches of the Bushes: A Family Tree
Five generations. Two presidents (and counting). And just about every elite profession you can name.
With another Bush presidential campaign possibly kicking off in the very near future, there's no better time for a refresher course on the sprawling political dynasty. Here, a family tree tracing five generations, from patriarch Prescott Bush down to his newest great-great-grandson, George Richey, born last year. In between you'll find a talk-radio host, a pediatric nurse, and a couple of presidents, so far.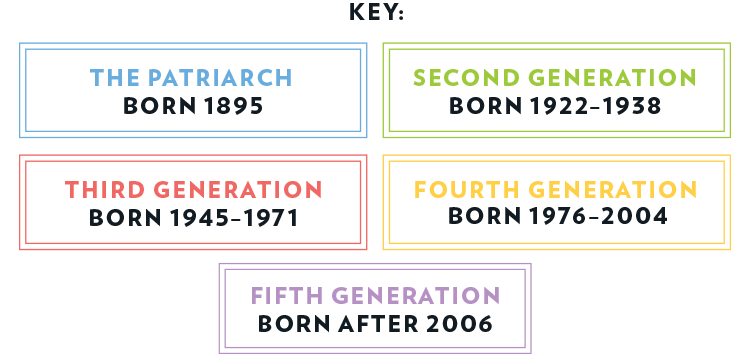 *This article appears in the April 6, 2015 issue of New York Magazine.

PHOTOGRAPHS: AFP/Getty Images (Prescott bush); STEPHANE DE SAKUTIN/AFP/Getty Images (GEORGE H.W. BUSH); Stacie McChesney/NBC/NBCU Photo Bank/getty images (George w. bush); Andrew Harrer/Bloomberg/Getty Images (JOHN E. BUSH); Jemal Countess/Getty Images (BARBARA BUSH); Noam Galai/Getty Images (JENNA BUSH HAGER); skipper/reuters (GEORGE p. BUSh); Theo Wargo/Getty Images (JEB BUSH JR.); Jemal Countess/Getty Images (JOHN ELLIS); Ben Gabbe/Getty Images (BILLY BUSH); NFL/Getty Images (JOSIAh ELLIS); Sylvain Gaboury/Patrick McMullan (NEIL BUSH); Carol T. Powers/Bloomberg via Getty Images (MARVIN BUSH); Andrew H. Walker/Getty Images (DOROTHY BUSH KOCH); Aylor Hill/FilmMagic/Getty Images (Lauren Bush Lauren)