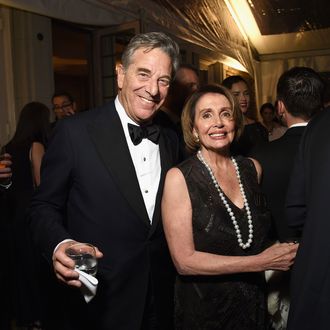 Photo: Dimitrios Kambouris/VF15/WireImage
The Vanity Fair–Bloomberg cocktail reception that follows the White House Correspondents' Dinner, held at the franco-swank residence of the French ambassador, is the kind of party where Katie Couric can kick off her shoes and spend much of the party in bare feet.
It's the kind of party where Charlie Rose and Ashley Judd stand by one of several bars and engage in a lot of intense close-talking.
It's the kind of party where one waits in line to use the loo, just as one has done at every normal, far less glitzy house party since the 1990s. But then the door to the ladies' room opens and Andrea Mitchell comes out.
And, since the event that gives this candle-lit-bathed soiree its raison d'être is the Correspondents' Dinner, it's also the kind of party where there is much discussion about how President Obama's barbed speech was received.
The general consensus, as per usual: Barack crushed it.
"The president killed it. The president kills it, always," says Bradley Cooper. Of course, the biggest movie star at this year's WHCD couldn't help but appreciate the Obama comedy since he was referenced in Michael-Keegan Key's "Luther anger translator" routine. ("If you haven't noticed, California is bone-dry … y'all think Bradley Cooper came here because he wants to talk to Chuck Todd? He needed a glass of water!")
Ava DuVernay, director of Selma and a WHCD first-timer who wasn't name-dropped in the speech, expresses the same sentiment, in the same language: "He killed it."
"I was just talking to one of his speechwriters, David Litt, who helps come up with that speech," says Billy on the Street host Billy Eichner. "Every year, I just bow down to David Litt. (a) it's written so well. And (b), the president delivers it so well. He's as good as any late-night talk-show host and it makes it very hard for the comedian to follow him."
Larry Wilmore echoes that sentiment, calling the speech "a mic drop" but wonders whether bringing out Key may have upstaged Cecily Strong, the night's actual entertainer, whom Wilmore also praises. "You can't bring another brother up there with you, man," he jokes.
Still, when asked whether he'd like to handle emceeing duties next year, at the final Obama-era Correspondents' Dinner, Wilmore seems unconcerned about possibly being upstaged himself; he says yes, without hesitation.