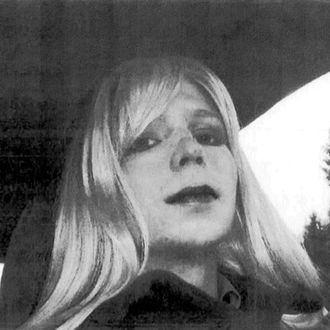 Chelsea Manning just gave her first interview to the media since being sentenced to 35 years in prison for leaking hundreds of thousands of military documents to WikiLeaks two years ago. The interview will be published in the May issue of Cosmopolitan. The 27-year-old is not allowed to speak to reporters on the phone or in person, so the whole thing was conducted via mail. Despite the difficulty of communicating with the outside world from prison, Manning is trying. She set up a Twitter account this week, but needs to dictate tweets on the phone. The Guardian hired Manning as a contributing editor in February. 
Manning would not discuss the document leak or Julian Assange, editor of WikiLeaks, with Cosmo. She did discuss her transition and what it is like to be a transgender woman in a men's military prison. 
Here are some highlights.
• Manning sued the military after it wouldn't allow her to received hormone therapy in prison. The military has since agreed to let her have access to hormones, makeup, and female underwear, but she is still not allowed to grow long hair. Manning said the whole process made her feel "like a joke" to the military.
• She has plenty of supporters. Manning receives many letters from transgender women who cite her as an inspiration. She reportedly got birthday cards from Vivienne Westwood, Michael Stipe, and Edward Snowden. 
• Friends and family visit, although she isn't allowed to receive anyone whom she didn't have a relationship with before she became nationally known. She also says she hasn't faced any harassment in prison. "The guys here are adults … There are some very smart and sophisticated people in prisons all across America — I don't think television and the media give them credit."
• She hasn't seen Orange Is the New Black, and says the idea of a transgender woman being allowed to live in a women's prison seems unlikely. 
• Manning says that serving in Iraq pushed her to finally come out as transgender. "When I went on leave in January 2010, I was comfortable dressing as a woman in public. I wouldn't have been able to do that before I deployed to a combat zone."
• Manning joined the military in 2007, at that point still going by Bradley Manning. "I absolutely was caught off guard by the intensity. There were points when I was humiliated pretty badly. One of the drill sergeants who inventoried my personal belongings made comments about my phone: It was pink. I didn't think much about bringing it with me — I just liked it."