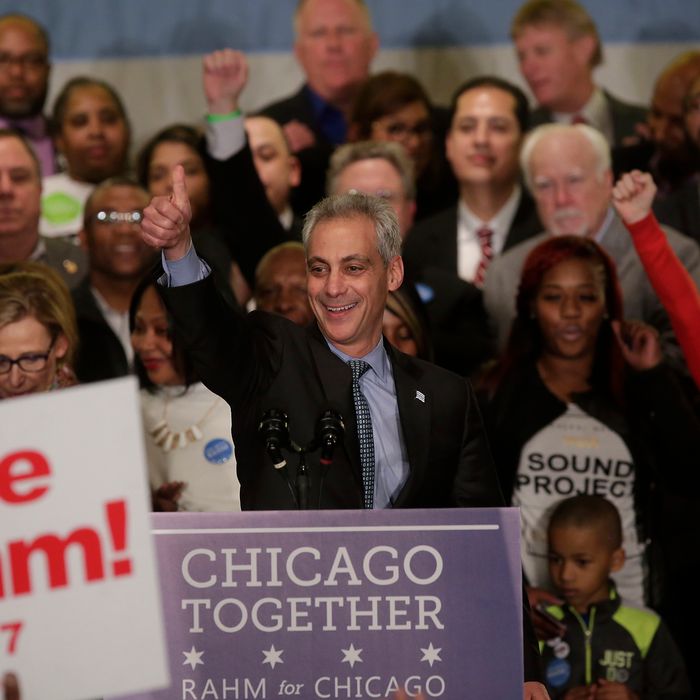 Rahm Emanuel gives the thumbs up at his election night rally on April 7, 2015 in Chicago.
Photo: Joshua Lott/Getty Images
After getting a nasty surprise when he failed to win more than 50 percent of the vote in February's election, Chicago mayor Rahm Emanuel secured a second term in a runoff election on Tuesday. The former White House chief of staff faced off against Cook County commissioner Jesús "Chuy" Garcia, who hoped to become the city's first Latino mayor. Emanuel had 56 percent of the vote to Garcia's 44 percent, with 98 percent of precincts reporting. At his victory party, Emanuel called Garcia "a good man" and thanked voters for "putting me through my paces." He added, "I will be a better mayor because of that."
In the past six weeks, Emanuel spent millions on ads attacking Garcia for being inexperienced and having no concrete plan to solve Chicago's fiscal problems. The mayor was criticized for closing 50 public schools, not doing enough to bring down Chicago's high crime rates, and focusing too much on the city's downtown at the expense of its poorer neighborhoods.
Emanuel's notoriously abrasive personality was also an issue, and he addressed his faults in a campaign ad, saying, "Look, I'm not going to always get it right — but when it comes to fighting for Chicago and Chicago's future, no one's going to fight harder."
According to the New York Times, a survey of voters leaving the polls showed Emanuel was backed by both men and women, black and white voters, and those 45 and older. Garcia had the support of seven in ten Hispanic voters and the majority of those whose children attend Chicago Public Schools.
Outside of Chicago, the race was seen as a test of whether a Bill de Blasio–esque progressive could topple a centrist Democrat. Garcia was even talking about how to "end the tale of two cities" while campaigning last weekend, but as New York's Chris Smith noted, comparisons between the most recent mayoral races in New York and Chicago weren't that clear-cut. Emanuel tried some progressive solutions in his first term, and the incumbent mayor was "in many ways a tougher target than the ghost of Bloomberg was for de Blasio."
Another big difference: Emanuel has a harder task ahead. He's facing contract negotiations with a teachers union that recently went on strike, persistent gang violence, and the city's $20 billion pension crisis. Yet, he was still upbeat on Tuesday night. "I have had the good fortune to serve two presidents. I've had the fortune of being elected to Congress," he said. "Being mayor of the city of Chicago is the greatest job I've ever had and the greatest job in the world."