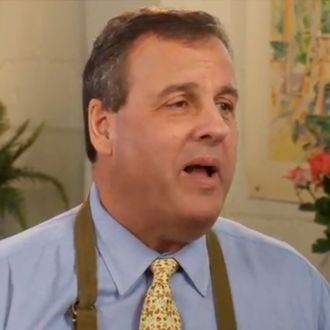 The premiere of Pasta and Politics, a new show on NJTV where politicians make Italian food and talk about their moms with New Jersey political writer Nick Acocella, airs tonight. The first guest is New Jersey governor Chris Christie, who wore a green apron, made rigatoni Bolognese, and told the host, "Good try, though," when he asked about 2016. 
Christie never needed to try one of his patented tools for reprimanding reporters because it seems that preparing food for someone is a good way to deter them from asking tough questions. Someone at the New Jersey Advance asked Acocella about his cooking-show interrogation style. "It really wasn't the right format for a grilling," he said. "Actually I might've gotten him to a low simmer."
At the end of the show, while the two men drank wine and ate, Acocella apparently gave Christie another opportunity to discuss 2016, telling him he would have no problems answering the question if the food was good. 
"It can't be that good," he replied.
According to Bloomberg, Senator Bob Menendez, who was indicted on federal-corruption charges last week, is supposed to be on the show at some point.