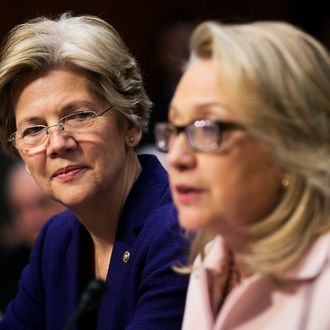 Oh, wow, thanks!
Photo: Andrew Harrer/Bloomberg via Getty Images
The Time "100" for 2015 came out today. The list of the year's most influential people features its signature mix of editorial shipping, with Time magazine tasking famous people with saying nice things about other famous people — sometimes confirming friendships the world already knew existed, other times revealing connections kept hidden. Or, in the most fun iteration, letting people proclaim their love or admiration in the celebrity-equivalent of holding a boombox under their crush's window — saying 100 words of glowing praise for them in a national magazine.
Here are some of the most notable sentences from this year's batch of Time's celebrity letters of recommendation.
Hillary Clinton on Senator Elizabeth Warren
"It was always going to take a special kind of leader to pick up Ted Kennedy's mantle as senior Senator from Massachusetts … And she never hesitates to hold powerful people's feet to the fire: bankers, lobbyists, senior government officials and, yes, even presidential aspirants."
Senator Rand Paul on the Koch brothers
"The Koch brothers' investment in freedom-loving think tanks will carry on for generations, reminding all of us that ideas and convictions ultimately trump all else."
Supreme Court Justice Antonin Scalia on Supreme Court Justice Ruth Bader Ginsburg
"Having had the good fortune to serve beside her on both courts, I can attest that her opinions are always thoroughly considered, always carefully crafted and almost always correct (which is to say we sometimes disagree)."
Speaker of the House John Boehner on Senate Majority Leader Mitch McConnell
"Mitch McConnell's mind is a marvelous machine."
Laurene Powell Jobs, founder of the Emerson Collective, on Hillary Clinton
"She is one of America's greatest modern creations."
New York Senator Kirsten Gillibrand on Julianna Margulies
"It wasn't just that we quickly began finishing each other's sentences."
Senator Lamar Alexander on Senator Bob Corker
"If he is not President himself, Corker is an obvious choice for Secretary of State or Treasury."
Rupert Murdoch on Disney CEO Bob Iger
"Under Bob, Disney is hardly Frozen in time."
Grover Norquist, president of Americans for Tax Reform, on French economist Thomas Piketty
"Perhaps Piketty has brought not Marx but John Rawls back to center stage."
Marina Abramovic on Björk
"In 2010, when the volcano named Eyjafjallajokull exploded in Iceland, Björk sent me an email: 'I'm so proud to tell you that our baby volcano is just born — it's so beautiful!'"