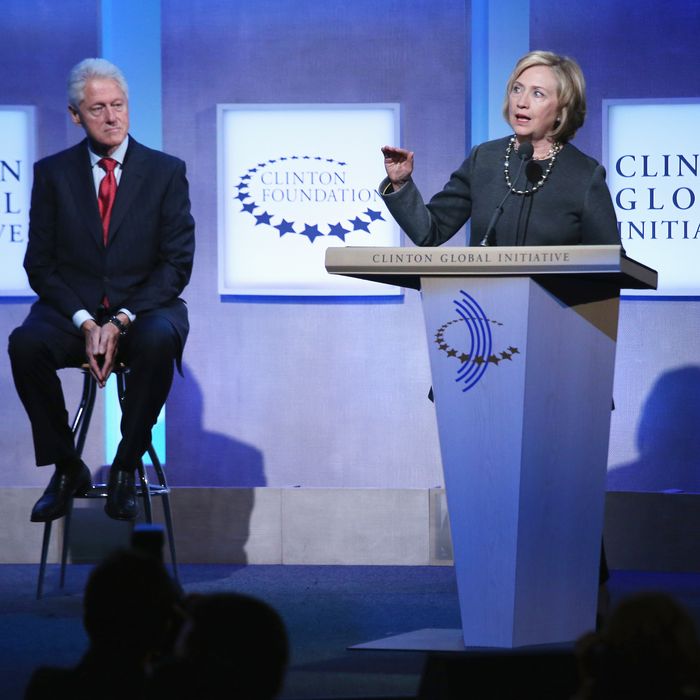 These accusation are as uncomfortable as that stool Bill's sitting on.
Photo: John Moore/2014 Getty Images
With the forthcoming book Clinton Cash sparking numerous reports about the Clinton Foundation's questionable practices, Sunday on Meet the Press, Arkansas governor Asa Hutchinson urged his party to be cautious. "Republicans need to be careful not to overstate the case, but it reminds us that the Clintons are complicated and they tend to make mistakes," Hutchinson said. Meanwhile, on ABC's This Week, Newt Gingrich picked up on Mitt Romney's bribery accusation. "My point is [the Clintons] took money from foreign governments while [Hillary] was secretary of State. That is clearly illegal," Gingrich said. "This is not about politics. It's illegal. And it's dangerous to America to have foreign governments get in the habit of bribing people who happen to be the husband of the secretary of State or the next president of the United States."
PolitiFact said that claim is "mostly false," and on the same program the book's author, Peter Schweizer, admitted that he found "no direct evidence" of any quid-pro-quos while Clinton was secretary of State. "The smoking gun is in the pattern of behavior," he said, adding, "You either have to come to the conclusion that these are all coincidences or something else is afoot."
The Clinton Foundation did admit on Sunday that it's made mistakes, but it wasn't referring to bribery or even operating in such a sloppy manner that they set themselves up for the current scandal. In a statement posted online, Clinton Foundation acting chief executive officer Maura Pally defended the Canada-based Clinton Giustra Enterprise Partnership, which transfers most of its funding to the Clinton Foundation. She said it was formed by Frank Giustra, who sits on the Clinton Foundation's board, to allow Canadian donors to receive a charitable tax credit. Since it's a separate Candadian organization, the Clinton Foundation does not list individual donors to the Clinton Giustra Enterprise Partnership, but Pally said, "This is hardly an effort on our part to avoid transparency — unlike in the U.S., under Canadian law; all charities are prohibited from disclosing individual donors without prior permission from each donor."
Pally also addressed errors on the Clinton Foundation's tax returns:
We have said that after a voluntary external review is completed we will likely refile forms for some years.  While some have suggested that this indicates a failure to accurately report our total revenue, that is not the case. Our total revenue was accurately reported on each year's form – our error was that government grants were mistakenly combined with other donations. Those same grants have always been properly listed and broken out and available for anyone to see on our audited financial statements, posted on our website.

So yes, we made mistakes, as many organizations of our size do, but we are acting quickly to remedy them, and have taken steps to ensure they don't happen in the future. We are committed to operating the Foundation responsibly and effectively to continue the life-changing work that this philanthropy is doing every day.
Now that they've cleared that up, surely this is the last time we'll hear about Clinton Foundation money.