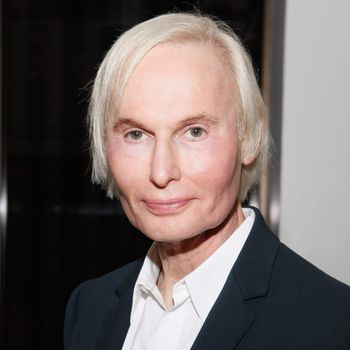 Dr. Frederic Brandt
Photo: Cindy Ord/Getty Images
The philanthropist Audrey Gruss was one of the last patients to see Dr. Fredric Brandt before the well-known dermatologist committed suicide last weekend. Gruss had a 4 p.m. appointment on Friday at Brandt's Miami office. "It was the second time I had seen him,'' she says. "On the first visit a few months ago at his New York office, I mentioned his article in the Times. He said that some people wrote in and said he looked terrible in the photo, but that he wasn't going to let it bother him. I told him I thought he looked very artistic."
On this visit they discussed art. "I asked him if he would be going to the Frieze Art Fair in May, and he said he would," Gruss says. "We agreed we would see each other there."
Gruss, founder of the Hope for Depression Research Center, says she was "totally shocked" when she heard the news on Sunday that Brandt hanged himself in his Miami home just over a day later. "I know the warning signs of suicide, and I keep thinking about whether there is anything I missed," she says. "But I don't think there is.''
A Brandt representative told the New York Times that the dermatologist, known for his celebrity clientele and his early and eager promotion of Botox, was suffering from depression and had been "devastated" by a cartoonish character seemingly based on him in Tina Fey's Netflix sitcom Unbreakable Kimmy Schmidt.
Kristofer Buckle, a makeup artist and friend, says Brandt was good at hiding his problems: "He appeared to be a super-happy guy who was singing all the time. In this business, we are in a world of perfection, and depression isn't something we talk about.''
But his condition had begun to affect his practice. "[His office] called me last month to cancel my appointment, saying he wasn't feeling well, and rescheduled for this past Monday at 9 a.m.,'' says longtime patient Jody Fox, a New York headhunter. "Then Friday a secretary called to cancel again. It was the first time in 30 years he had canceled, and when they did it a second time I thought it was very odd.''
Brandt, who built his name on injectables, had recently launched a new product called Needles No More. "It was a hugely successful launch and he was very happy about it,'' says Jacquie Trachtenberg, a longtime publicist for Brandt. According to colleagues, he seemed to be enjoying his accomplishments and valued the loyalty of such patients as Madonna, Stephanie Seymour, and Kelly Ripa. "Every time I asked him how he was, he would say, 'Life is great,''' says Dr. Howard Sobel, a fellow cosmetic dermatologist.
In the past several days, many of those who know him have taken to social media to grieve, exchange fond memories, and speculate on what could have moved a well-loved man to such a desperate and violent act.
"Tina Fey has blood on her hands!'' says Dana Wood, a freelance beauty writer who coined Brandt's often repeated title "Baron of Botox'' in an early interview for W Magazine. "It breaks my heart to think of him watching that and suffering.'' Brandt recently suggested Wood come in for a rejuvenation session. "He said I'm going to take 15 years off; I will fix you up,'' she recalls. "I showed up and started talking to women in the waiting room and asked them how often they came in, and most said every six months. It was $6,000 every time you walked through the door. I waited an hour and a half and during that time I came to my senses and didn't want to spend that much money. He was so lovely and generous, he might have tried not to charge me, which I didn't want either, so I left. Now I'm feeling like I totally need it, and he's gone.''
Dr. Ellen Gendler, a New York dermatologist who was close to Brandt, says that Brandt was secretly pleased by the attention. "Fred was flattered that he was a big enough presence to be parodied by an actor as big as Martin Short,'' she says. "I saw him less than two weeks ago and we were giggling about the bright shirt he was wearing. He knew what he looked like, and he laughed when I teased him. Those closest to him knew he was battling depression, but that it had only gotten bad recently.'' Brandt's friend John Joseph Hupert was reportedly staying with him because of a fear the dermatologist might be suicidal.
Brandt, who had completed residencies in oncology and nephrology, ran a research center in Miami and created a successful line of cosmetic products under his name. His patients say, even as he became a celebrity in his own right, he was an empathetic physician. "He was keenly aware of other people's feelings and their sensitivities, and above all, he wanted to help,'' says Robbie Myers, editor-in-chief of Elle.
Brandt famously tested his techniques on himself and developed an unnatural appearance. "Of course he was getting stranger looking, but it never bothered me,'' says Wood. The platinum hair was also a choice. "He loved being blonde!'' says Oscar Blandi, who owns the salon Brandt visited regularly for his color. "Fred was so nice to everyone; he even helped me with my business.'' His colorist, Kyle White, was also among his closest friends. "Fred and I confided in each other all the time," White says. "If I had believed he would do this, I would have been with him every minute of every day.''
Edgy designer clothing was also part of his look. "He was always in Givenchy camouflage pants or Lanvin ripped motorcycle clothes,'' reports Lauren Foster, the transgender actress and former patient. "He knew what he was doing to himself; he knew what he looked like. Someone told me recently he had been depressed, but my friend went in to see him last week and he was singing in the office. Whatever was going on with him, he made her look 20 years younger.''
"I liked that he claimed his own style and was proud of it,'' says Dr. David Colbert, a dermatologist with a celebrity clientele to rival Brandt's. "Sometimes people with unlimited access lose track of the amount they are using. In any case he was unique and incredibly generous.''
But at age 65 he was unmarried and had only one brother left in his family, and no significant romantic relationship in his life. "Everyone adored him, but he had very few people who he was really close to,'' says Gendler.
"I saw him at the Watermill Center and at Art Basel, and what struck me was that he always looked lonely,'' says celebrity publicist R. Couri Hay. "He made a lot of money, but in the end when he closed the doors, he was alone. He literally created a mask for himself and hid behind it.''