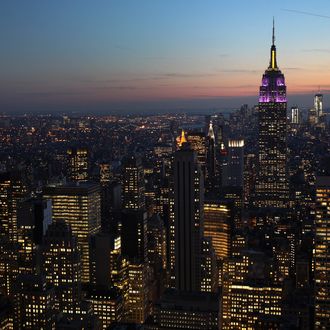 Photo: John Moore/2012 Getty Images
A federal commission conducted an overview of New York City's employment practices and found that owing to "structural and historical problems" the city consistently paid women and minorities less than white men. Raise your hand if you're surprised! Anybody?
The Equal Employment Opportunity Commission studied the salaries of city employees for the last six years, and determined that for women and minorities, the "rate of pay is much less than their white male counterparts' in similarly situated jobs and titles." The findings come in response to a complaint brought against Mayor Bloomberg file by a union representing over 1,000 city administrators who say they were unfairly compensated. The commission is recommending that New York issues $246 million in back pay to those affected.
The city, however, denies that the report confirms discrimination occurred.
"The process is just beginning," Mayor de Blasio's spokesperson told the Times. "There has not been a hearing and we expect there to be arbitration later this year, where it will be made clear that salaries have been set based on responsibilities and experience. Administrative managers hold a wide variety of positions across many city agencies, with varying levels of responsibilities — and therefore have a very broad range of salaries."
If New York doesn't enter into conciliatory talks with the complainants by April 17, the Justice Department could file a lawsuit against the city.