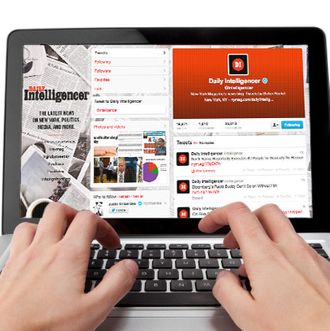 Welcome back to the New York Magazine Competition. On alternate Mondays, we lay out a challenge and offer a sample responses. Enter in the comments section, or on Twitter with the hashtag we've provided, and the editors will select a winner. Criteria are highly subjective, but heavily retweeted and favorited posts will have an advantage. The prize is a year's subscription to New York in print or a two-year subscription to the iPad edition (winner's choice). Full rules are here.
COMPETITION NO. 46: "LYRICS FOR MAD MEN'S THEME." Please offer a few lines to accompany the show's wordless theme song as the final season unfolds. (See the credits sequence here.) For example:

Roger Sterling
Smoking, drinking
Silver-foxing.
Every wisecrack
Gold.

______________

Crazy twist that
Matthew Weiner's 
written this week:
(spoiler!) Glen
is back.

______________

Sal Romano
Art director:
We all loved you!
How 'bout
one more fling? 
______________
Enter on Twitter with the hashtag #madmenlyrics, or in the comments thread below, by April 29.
RESULTS OF COMPETITION NO. 45, "TWIN PEAKS WITHOUT DAVID LYNCH," in which you were asked to suggest how the series might return under new management. 
HONORABLE MENTION TO:
BILL O'REILLY:  Killing Laura Palmer
— rmtmiller
SHERWOOD SCHWARTZ: The Harlem Globetrotters stop by.
—FlirtySanchez
DARREN STAR: "As I saw the log lady cradling her log, I couldn't help but wonder, does anyone really need a baby, if they're just going to grow up to be killed?"
 —hoipolloi
HILLARY CLINTON:  Unintentionally undermined the project so that no new episodes were actually made.
—RealityCzech
JOHN WOO: Every scene is a slow motion shoot-out.  DOVES.
—Gabegirl 
MTV: Laura Palmer isn't dead, just pregnant.  Agent Cooper throws her an amazing Sweet 16.
—BambooLounge
LARRY DAVID: After Special Agent Dale Cooper realizes he can't solve Laura Palmer's murder, he quits in frustration, but returns to work the next day as if nothing had happened.
—Lexxman
ANDY COHEN: A lot more scenes would be shot at Horne's department store; less coffee, more rosé.
—chalkywhite 
TERRENCE MALICK:  Agent Cooper and his best friend Bob join hands, laugh and spin as they contemplate the Northwest's misty vistas; a local woman's log becomes the tree of life.
—HudsonRiver

QUENTIN TARANTINO: The entire series is a study of Laura Palmer's feet, staring with the heel, skipping to the toe, then focusing a great deal on the arch. In the end, Samuel L Jackson screams about how nice they are, and everyone dies.
—contrarian_dip
TLC: Conjoined Twin Peaks: Abby and Brittany solve a double murder.
—alanmarkgreenspan
BOB FOSSE: A musical thriller.  "Let's Have Another Cup of Coffee, Let's Have another Piece of Pie" is performed in a red room by dwarves doing pelvic thrusts.
—HudsonRiver
AND THE WINNER IS:

MEL GIBSON: Laura Palmer is killed by Jews.
—RegisMayhem
Competition No. 46: Lyrics for Mad Men's Theme
Things you buy through our links may earn Vox Media a commission.