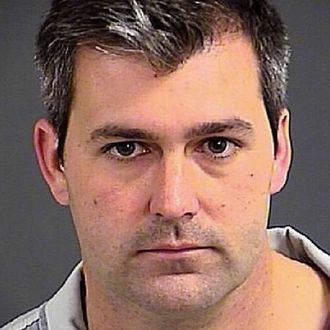 Michael Slager's booking photo.
Photo: Charleston County Sheriff's Office
Yet another recording from the shooting of Walter Scott has leaked online. Last week North Charleston, South Carolina officials released dashcam footage of Scott being stopped by Officer Michael Slager and bolting from his car. Now The Guardian has obtained audio from Slager's dashcam that captured the moments after he fatally shot Scott. Slager is heard asking another officer what happens next. "By the time you get home, it would probably be a good idea to kind of jot down your thoughts on what happened," says the senior officer. "You know, once the adrenaline quits pumping." "It's pumping," Slager responds, laughing.
Earlier in the conversation, Slager answers a phone call (he later tells another officer he spoke with his wife, who is eight months pregnant). "Hey, everything's okay," he tells the caller. After an inaudible section, he says, "He grabbed my Taser, yeah. Yeah, he was running from me." Police initially said Scott was shot after he took Slager's Taser during a scuffle. After bystander video of the incident emerged, Slager was charged with murder.
In a New York Times profile posted Sunday night, former neighbors describe Officer Slager as a "child of divorce," who was well-behaved and a bit shy. Slager's mother, Karen Sharpe, said after visiting him in jail on Friday that he wasn't aware of how much news coverage the case was attracting. "I think he's scared to death," Sharpe told the paper. "He's never been in this situation. Nobody ever thinks they're going to be in this situation."