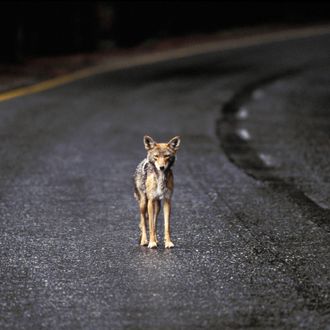 Photo: Michael Sewell/Getty Images
First, there was the coyote on the roof of a bar in Queens. Then, there was the coyote caught wandering a Chelsea apartment complex. And just yesterday, another one was spotted taking a morning stroll through Riverside Park. If you thought that, like chunky highlights, this was a temporary trend, think again.
DNAinfo spoke with some coyote experts who predict that New Yorkers will be seeing a lot more of the animals in the coming years. Approximately 15 coyotes have made homes in the Bronx, and as they continue to breed, their spawn will spread out searching for new territory. If they can't find any north of the city, they'll be forced to move into the five boroughs, making coyote sightings much more likely.
"In a couple of years, we could have 20 or so [coyotes] living in almost every borough," one expert said.
Maybe New York being overrun with hungry coyotes will finally bring the rent prices down (LOL, dreams are nice).