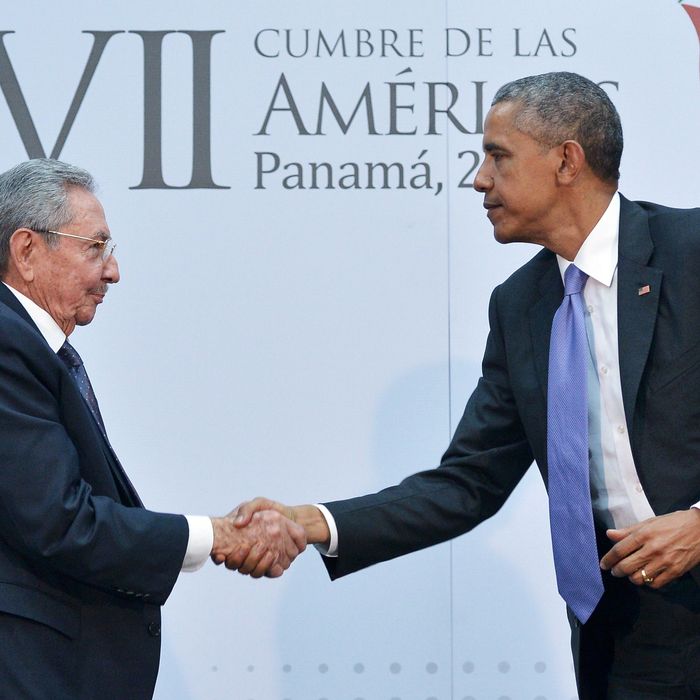 Presidents Castro and Obama.
President Obama and Cuban president Raúl Castro made history on Saturday, shaking hands* and sitting down for the first face-to-face meeting of their countries' leaders in more than 50 years. As you might recall, Cuba and the United States announced a joint effort to restore diplomatic ties in December of last year.
Here's the video:
Obama and Castro's get-together, which took place at Panama City's Summit of the Americas conference, was not without awkwardness. The Washington Post reports that Castro gave a nearly hour-long speech "[recounting] the history of what he called U.S. oppression and abuse of Cuba, from early military incursions and occupation to the Bay of Pigs invasion and what he described as U.S.-sponsored terrorist attacks on the island., etc."
He then absolved Obama of any blame in the last half-century or so of unpleasantness. "I apologize to Obama for expressing myself so emotionally. President Obama has no responsibility for this. There were 10 presidents before him; all have a debt to us, but not President Obama," Castro said. "In my opinion, President Obama is an honest man." 
With that out of the way, Obama and Castro looked toward the future: "This is obviously a historic meeting. It was my belief it was time to try something new, that it was important for us to engage with Cuban government," said Obama. "And more importantly, with Cuban people." Castro added that the pair intended to discuss sensitive topics, saying, "Everything can be on the table." However, he added that they had also "agreed to disagree." Have fun, you two.
*An earlier version of this post said that Castro and Obama first shook hands on Saturday, when they actually did so a year and a half ago. Saturday marked their first face-to-face meeting, which was a big deal.