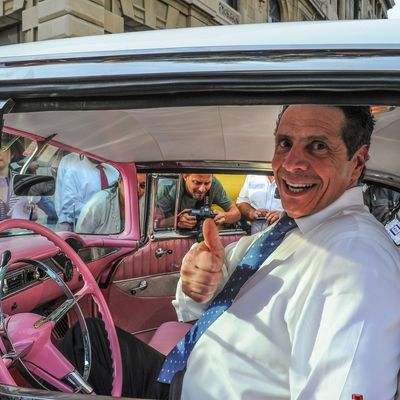 Cuomo and Lola briefly consider challenging Hillary Clinton and the Scooby Van to a race across Iowa.
Photo: Yamil Lage/AFP/Getty Images
Governor Andrew Cuomo set off for Cuba on Monday, becoming the first American governor to visit the country since December, when President Obama and President Castro decided the two countries should make nice. 
Based on photographic evidence, it appeared that Cuomo's favorite moment of the trip was when he had the chance to meet Lola, a pink '56 Chevy Bel-Air he found in Old Havana. "Beautiful. A work of art." When the owner, Julio Alvarez, opened the hood and explained that he had changed the engine since the old one had died, Cuomo said, according to the New York Times, "I have never seen a Chevy with a Toyota engine in it. I had to come to Cuba to see this."
When asked if he wanted to take the car out for a ride, the governor noted that he did not own a Cuban driver's license. "I don't want to be imprisoned, period — and not in Cuba."
The car's un-American heart transplant also let Cuomo segue into the advertised purpose for his trip, which was not looking at old cars (although the cars were undoubtedly a preplanned perk). The governor — along with several state legislators and New York business owners — was trying to figure out how to jump-start trade between his state and Cuba, and push Congress to end the embargo. Hamdi Ulukaya, founder of Chobani, came along, as did people who work at JetBlue, MasterCard, the Plattsburgh International Airport, Pfizer, Regeneron, and the Roswell Park Cancer Institute.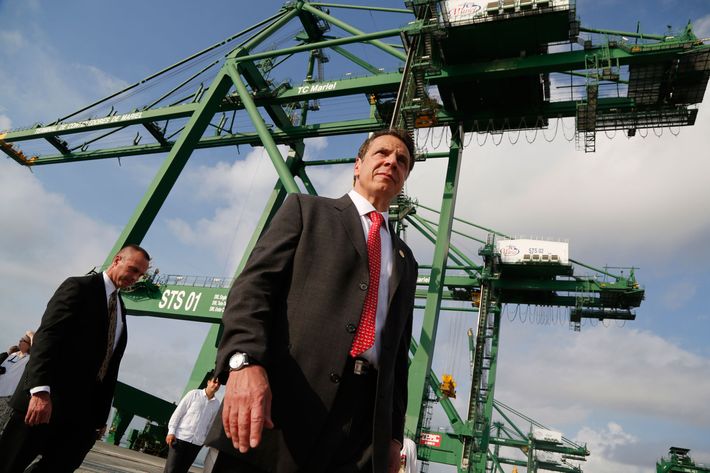 He is not the first Cuomo to talk about ending the embargo. His father, the late Mario Cuomo, met with Fidel Castro in the '80s. "Someone sent me this weekend a picture of my father and former President Fidel Castro," he told reporters. "My father was an outspoken proponent against the embargo, especially in 1996 when it was broadened. So it's only fitting that I am here today with my colleagues and my associates from the State of New York, doing everything that we can, now that we have the opportunity, to finally normalize relationships."
However, it is unlikely that the embargo will end soon, and it will probably take years for the United States to successfully figure out how to do business with Cuba. As many reporters pointed out, the trip mostly looked "like one big photo opportunity." A Capital New York reporter wrote that "the trip provided a series of chances for a governor who is normally a homebody to explore a new place and be photographed doing so."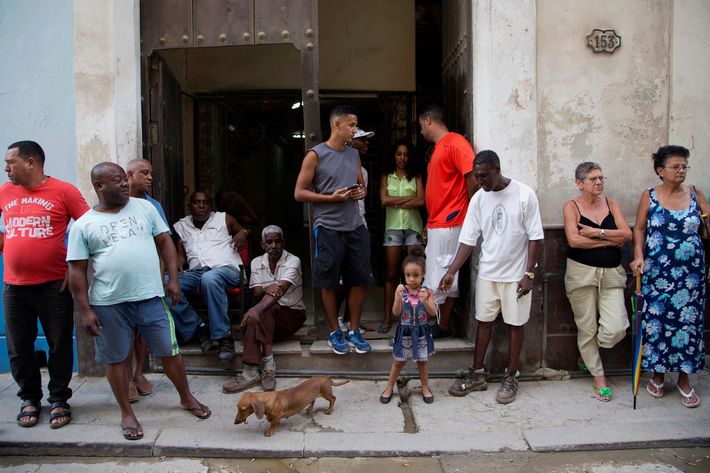 There were plenty of people upset back in New York by the trip. Republican Assemblyman Steve McLaughlin told WNYT that "the hypocrisy there speaks for itself. We're going to ban travel to Indiana, but not ban travel to Cuba where, as I said before, they jail gay people. I mean, this is a real problem down there, but yet he won't address the human rights issues that are down there. So I think it's going to be a nice trip for the governor and the folks that are on it, but I don't expect any measurable success out of this trip, in any way." The big teachers' union in New York is also upset with the governor right now, and the trip proved a useful conduit for a new insult. United Federation of Teachers president Michael Mulgrew told the New York Daily News, "It's interesting the governor can go to Cuba but he can't get to a classroom in New York State. I guess it's just too far to travel to the public school classrooms."
Cuomo also inevitably received a cigar during his stay from the minister of trade and foreign investments, Rodrigo Malmierca Diaz, according to The Wall Street Journal. "I also want to thank the minister for my first Cuban cigar, which I intend to enjoy right after this meeting. So if I speak quickly, please forgive me."