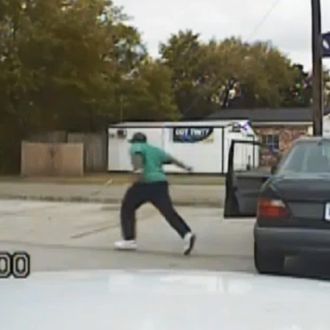 South Carolina officials have released dashcam footage of the routine traffic stop that led to the death of Walter Scott, who was shot in the back as he tried to flee by Officer Michael Slager. The gruesome video has become yet another flashpoint in the ongoing discussions about excessive force and racial tensions between black communities and the police officers that patrol them.
The dashcam footage shows Slager pulling Scott's car over for having one of its brake lights out; the light is not one of the two on either side of the car, but instead a third light. Slager asks for Scott's paperwork, and he says that the car isn't yet his, but he's intending to purchase it. The exchange is cordial until Slager returns to his vehicle to run Scott's license for priors and Scott flees, which his family says he did because he was afraid he would be arrested for not playing child support.
Slager then pursues Scott, leading to the footage recorded by a bystander that shows him shooting Scott in the back as he runs away. Slager has been fired from his job and charged with murder.