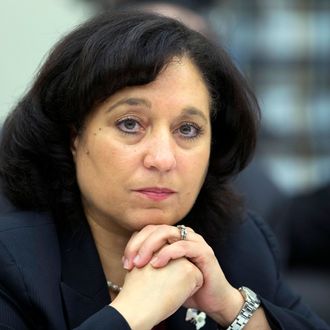 Photo: Manuel Balce Ceneta/AP/Corbis
Michele Leonhart, head of the Drug Enforcement Administration, has announced that she will retire in the next month, less than a month after a Justice Department report revealing the agency's tendency to throw sex parties in Colombia with women hired by drug cartels. The DEA decided that the appropriate response was to suspend the ten DEA agents involved for two to ten days.
After a hearing on the report, the House Oversight Committee released a bipartisan statement arguing that "Leonhart has been woefully unable to change or positively influence the pervasive 'good old boy' culture that exists throughout the agency" and that "it is clear that she lacks the authority and will to make the tough decisions required to hold those accountable who compromise national security and bring disgrace to their position." The committee also released a new report showing that these sex parties have been going on since 2001, and that "literally dozens" had taken place.
Leonhart began heading the DEA as a acting chief before Obama was elected, and was officially confirmed in 2010. She and the Obama administration definitely didn't agree on marijuana policy or sentencing reform. During a congressional hearing in 2012, she declined to say that pot was less harmful than heroin. "Hopefully, her resignation will mark the end of the 'Reefer Madness' era at the DEA," Dan Riffle at the Marijuana Policy Project said in a statement.
Rep. Steve Cohen, a Democratic legislator from Tennessee who has been calling on Leonhart to resign for at least a year and recently sponsored legislation to legalize medical marijuana, told U.S. News and World Report, "Yippee Ki-yay!" after hearing today's news.