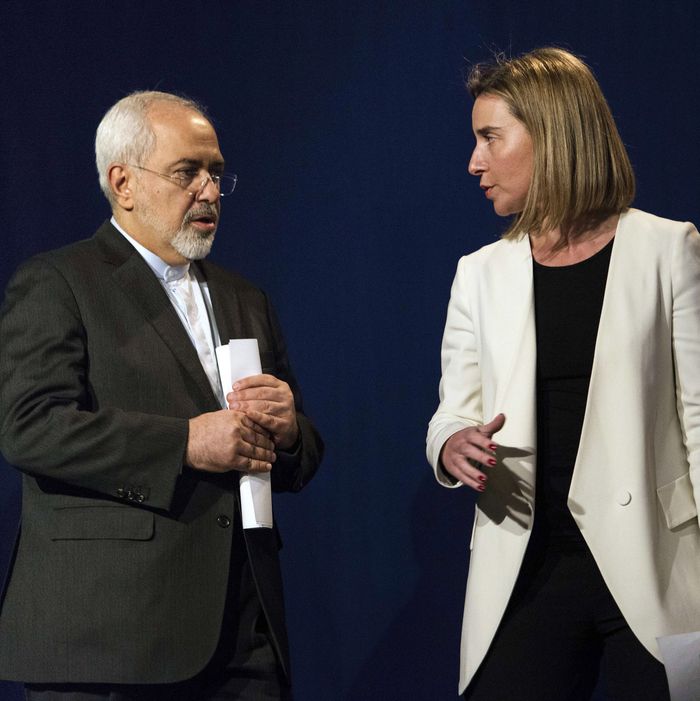 Secretary of State John Kerry, Iranian Foreign Minister Javad Zarif and Federica Mogherini arrive to deliver a statement after Iran nuclear program talks finished with extended sessions.
Photo: Brendan Smialowski/AFP/Getty Images
The United States, Russia, China, France, Britain, and Germany have finally reached a framework agreement with Iran over its nuclear capabilities, two days after the deadline and a few months away from the deadline for a final deal. 
Iranian Foreign Minister Javad Zarif and Secretary of State John Kerry both announced the agreement on Twitter, as did many of the other diplomats taking part in the deliberations, which is apparently how diplomacy happens now.
Iranian President Hassen Rouhani favorited Zarif's tweet, because this is apparently how domestic politics happens now. A few people on Twitter noted that the social-media website is banned in Iran. However, Obama's speech after the announcement was broadcast live on Iran's state television.
Iran will no longer be able to produce weapons-grade plutonium, and an underground enrichment site at Fordo will no longer be able to produce fissile material. The time that it will supposedly take Iran to amass enough material to build a weapon if it does break the agreement will grow from three months to a year. Foreign inspectors will watch Iran's program at every step in the supply chain. "If Iran cheats," President Obama said during an address on Thursday afternoon, "the world will know it." 
In return for limiting their nuclear capabilities, the U.S. and other countries will lift some sanctions as Iran fulfills its side of the agreement. Sanctions regarding Iran's human-rights abuses, terrorism, and ballistic missiles will remain unchanged. 
Other elements of the deal — and the complaints about it — will likely dribble out as a war of press conferences takes place between the different countries and the factions within them. There have been plenty of skeptical tweets about the agreement already, too, including one from Israeli Prime Minister Benjamin Netanyahu. 
Congress quickly began tweeting their responses to the news too. Democrats have been far more vocal, praising the interrim agreement and the diplomacy it took to craft it. Only a few Republicans have tweeted their disapproval so far. 
Other lawmakers have gone the old-fashioned route and signaled their disapproval by giving a reporter a quote that mentioned Hitler. 
Senators Bob Corker and Jeff Flake — two of the seven Republican senators who did not sign Senator Tom Cotton's letter to Iran — are both withholding judgment for now, preferring to read the details before they decide how to feel about it. Corker, who chairs the Senate Foreign Relations Committee, released a statement saying, "It is important that we wait to see the specific details of today's announcement." However, when Congress returns from spring break, he will also introduce a bill that would require congressional review of any agreement. Senator Bob Menendez, indicted only yesterday for federal corruption charges that could lessen his influence in the Foreign Relations Committee, released a statement that made a similar point: "If diplomats can negotiate for two-years on this issue, then certainly Congress is entitled to a review period …"
Expecting criticism and a chorus of "me toos," Obama directed a significant portion of his speech toward the haters, saying that he would "welcome a robust debate in the weeks and months to come," and planned to talk to congressional leaders today about how they can get involved in the process. Kerry, who called the preliminary deal a "solid foundation" in a press conference today, also said that he hoped his former colleagues in the Senate would help him out in the upcoming months; there are still many ways this deal could die.
"So when you hear the inevitable critics of the deal sound off," Obama said in his speech, "ask them a simple question: Do you really think that this verifiable deal, if fully implemented, backed by the world's major powers, is a worse option than the risk of another war in the Middle East? Is it worse than doing what we've done for almost two decades, with Iran moving forward with its nuclear program and without robust inspections?"
This post has been updated throughout.