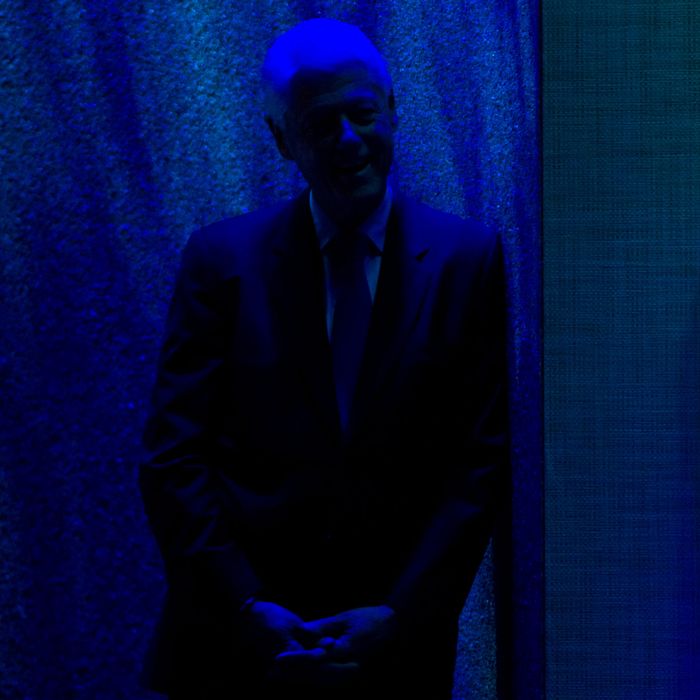 Former U.S. President Bill Clinton listens to the speech of U.S. President Barack Obama during the seventh annual meeting of the Clinton Global Initiative (CGI) at the Sheraton New York Hotel on September 21, 2011 in New York City.
Photo: Daniel Berehulak/Getty Images
The qualities of an effective presidency do not seem to transfer onto a post-presidency. Jimmy Carter was an ineffective president who became an exemplary post-president. Bill Clinton appears to be the reverse. All sorts of unproven worst-case-scenario questions float around the web of connections between Bill's private work, Hillary Clinton's public role as secretary of State, the Clintons' quasi-public charity, and Hillary's noncompliant email system. But the best-case scenario is bad enough: The Clintons have been disorganized and greedy.
The news today about the Clintons all fleshes out, in one way or another, their lack of interest in policing serious conflict-of-interest problems that arise in their overlapping roles:
The Clinton campaign is batting down the darkest and most conspiratorial interpretation of these stories, and where this all leads remains to be seen. But the most positive interpretation is not exactly good.
When you are a power couple consisting of a former president and a current secretary of State and likely presidential candidate, you have the ability to raise a lot of money for charitable purposes that can do a lot of good. But some of the potential sources of donations will be looking to get something in return for their money other than moral satisfaction or the chance to hobnob with celebrities. Some of them want preferential treatment from the State Department, and others want access to a potential future Clinton administration. To run a private operation where Bill Clinton will deliver a speech for a (huge) fee and a charity that raises money from some of the same clients is a difficult situation to navigate. To overlay that fraught situation onto Hillary's ongoing and likely future government service makes it all much harder.
And yet the Clintons paid little to no attention to this problem. Nicholas Confessore described their operation as "a sprawling concern, supervised by a rotating board of old Clinton hands, vulnerable to distraction and threatened by conflicts of interest. It ran multimillion-dollar deficits for several years, despite vast amounts of money flowing in." Indeed, as Ryan Lizza reported in 2012, Bill Clinton seemed to see the nexus between his role and his wife's as a positive rather than a negative:
Regardless of Bill Clinton's personal feelings about Obama, it didn't take him long to see the advantages of an Obama Presidency. More than anyone, he pushed Hillary to take the job of Secretary of State. "President Clinton was a big supporter of the idea," an intimate of the Clintons told me. "He advocated very strongly for it and arguably was the tie-breaking reason she took the job." For one thing, having his spouse in that position didn't hurt his work at the Clinton Global Initiative. He invites foreign leaders to the initiative's annual meeting, and her prominence in the Administration can be an asset in attracting foreign donors. "Bill Clinton's been able to continue to be the Bill Clinton we know, in large part because of his relationship with the White House and because his wife is the Secretary of State," the Clinton associate continued. "It worked out very well for him. That may be a very cynical way to look at it, but that's a fact. A lot of the stuff he's doing internationally is aided by his level of access."
The Obama administration wanted Hillary Clinton to use official government email. She didn't. The Obama administration also demanded that the Clinton Foundation disclose all its donors while she served as Secretary of State. It didn't comply with that request, either.
The Clintons' charitable initiatives were a kind of quasi-government run by themselves, which was staffed by their own loyalists and made up the rules as it went along. Their experience running the actual government, with its formal accountability and disclosure, went reasonably well. Their experience running their own privatized mini-state has been a fiasco.