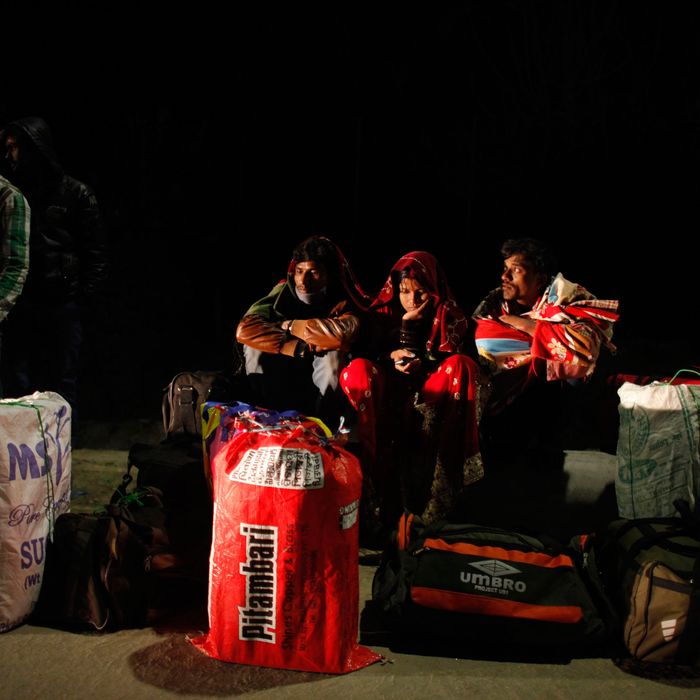 Nepalese people wait for a bus to travel to their village, in Kathmandu, Nepal, Tuesday, April 28, 2015. Across central Nepal, including in Kathmandu, the capital, hundreds of thousands of people are still living in the open without clean water or sanitation since Saturday's massive earthquake.
Photo: Niranjan Shrestha/AP/Corbis
More than 5,000 people are confirmed dead three days after the 7.8-magnitude earthquake that hit Nepal this weekend, and Prime Minister Sushil Koirala warned that number could double as more of the devastation is catalogued. More than 11,000 people have been injured, and the United Nations estimates that more than 8 million people have been affected by the disaster.
Brigadier General Jagadish Pokharel, spokesperson for the Nepalese Army, told reporters, "Our primary, primary, primary goal is to rescue the people … We will do our best."
Many people are getting frustrated by the speed of the disaster response, as the government tries to balance making sure people in Kathmandu get adequate water and food supplies with trying to make sure those in remote villages aren't left stranded. Relief workers have been slowed down in their attempts to disperse clean water by rainstorms, which will possibly keep pelting the region for the next week. Landslides and avalanches make it impossible to reach many of the villages, which don't have access to phones or electricity thanks to the earthquake, as well as making the remote places a continuously dangerous place to wait. When aid workers finally make it to villages to bring food and medical assistance, villagers plead to follow the helicopters — which are small and can't fly in windy conditions — back to Kathmandu. "Every time it feels like we will be swallowed, that we will die now. I want to get out of here!" one woman told the AFP. More than 650 injured villagers have been taken back to Kathmandu for medical attention. 
Thomas Meier, an engineer with the International Nepal Fellowship, told the Associated Press, "This is a long-term emergency. This will need major attention for the next five years. People have nothing left."
At least 16 countries have sent aid to Nepal so far and will send much more, although likely nowhere near the billions that the country will eventually need. The Nepalese community in New York City has been gathering donations and plans to ship boxes of clothing and blankets soon, according to The Guardian. At a vigil in Queens this Sunday, more than $20,000 was raised to send to earthquake victims. 
One of the most dispiriting things about the earthquake is that no one knowledgeable about the region was surprised that it happened — or that the poor, politically tempestuous country was underprepared for its arrival.