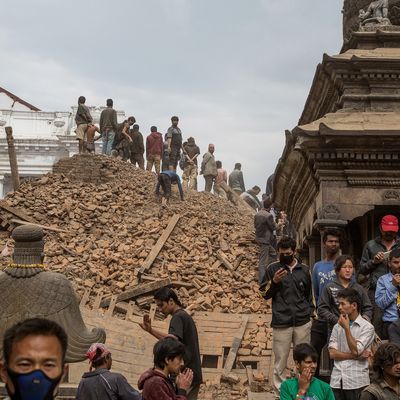 A 7.8-magnitude earthquake struck 50 miles outside of Kathmandu, Nepal, just before noon on Saturday, killing more than 2,500 people and injuring 5,900. In addition to causing devastation in Kathmandu, the earthquake killed dozens of people in nearby India, Tibet, and Bangladesh, and triggered an avalanche on Mount Everest, which is currently crowded with climbers. (At least 18 have been confirmed dead and 30 were injured.) The earthquake was followed by a series of aftershocks, one of which had a magnitude of 6.7.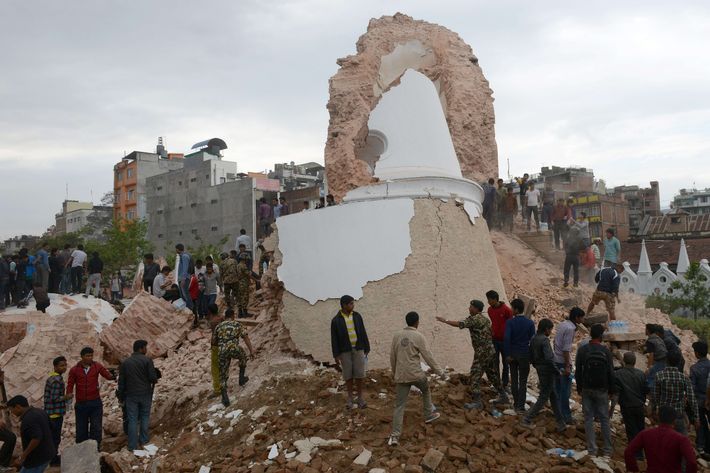 The tremors destroyed a number of buildings in Kathmandu, including the 200-foot Dharahara Tower. The structure, which was built in 1832 for the queen of Nepal, was a UNESCO-recognized historical monument. From the New York Times:
The walls were brick, around one and a half feet thick, and when the earthquake struck they came crashing down.

The police on Saturday said they had pulled around 60 bodies from the rubble of the tower. Kashish Das Shrestha, a photographer and writer, spent much of the day in the old city, but said he still had trouble grasping that the tower was gone.

"I was here yesterday, I was here the day before yesterday and it was there," he said. "Today it's just gone. Last night, from my terrace, I was looking at the tower. And today I was at the tower — and there is no tower."
The earthquake is the strongest to hit the country in 80 years, according to the AP. There are reportedly hundreds of injured people in Kathmandu's hospitals, and thousands are camping outside because they are either unable or unwilling to return to their homes. Meanwhile, the Times reports that on Sunday, "the city was awash with rumors that the worst aftershocks were yet to come and with fears of greater destruction in the countryside, large swaths of which remained unreachable by phone."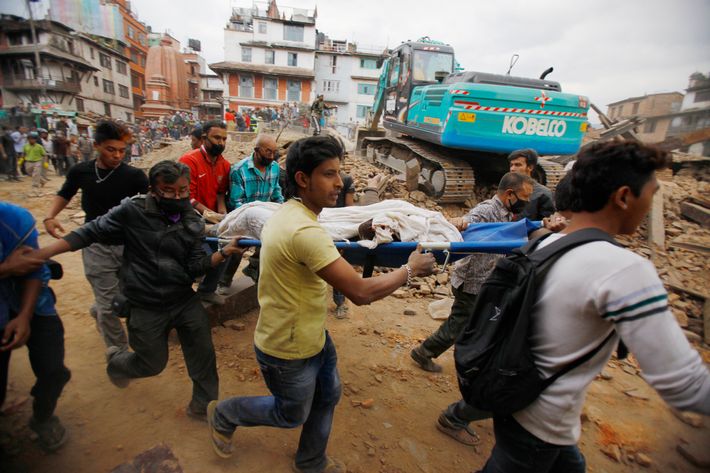 Reuters reports that "Indian Prime Minister Narendra Modi dispatched a military air transporter with three tonnes of supplies and a 40-strong disaster response team to Nepal. Three more planes were to follow, carrying a mobile hospital and further relief teams." China, Pakistan, Israel, Britain, the EU, and the United States have also pledged to help, and aid began arriving on Sunday.
This post has been updated throughout.