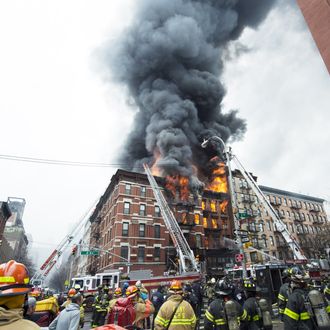 Photo: Joe Marino/NY Daily News via Getty Images
Two people died and 22 were injured in last week's East Village building explosion, which authorities now believe was caused by an illegally tapped gas line. Several of the East Villagers who have been evacuated from their apartments on Second Avenue have also been searching for the beloved cats that were in the building at the time of the explosion. According to EV Grieve, seven cats have been missing since Thursday, but today that number thankfully dropped to four.
Kathleen Blomberg, a resident of 125 Second Avenue for 21 years, posted updates on Instagram and Facebook about her missing cats.
"My 2 cats, my beloved fur babies, have been missing since the explosion," she wrote on her Facebook page. "Seemingly, I now have nothing. But if my babies come back safe, I actually have EVERYTHING."
Blomberg was reunited with her cats on Wednesday after the two kitties were discovered during a search orchestrated by the NYPD and ASPCA. Another cat, Laszlo, was also found unharmed. 
If you've spotted any stray cats wandering around near the accident site, you can call 311 for Animal Control, or email healthypet@msn.com.