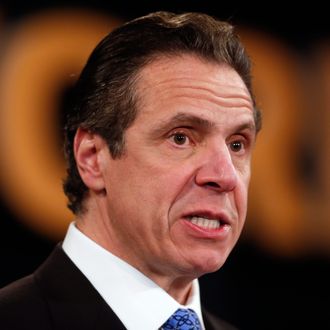 Photo: Mike Groll/AP/Corbis
Politics on the Hudson reports that around 400 copies of The Contender: Andrew Cuomo, a Biography, Michael Shnayerson's new book about the New York governor, were sold during the book's week on shelves.
Cuomo — who did not agree to an interview for the book — was probably among the people who did not read it; his spokesperson "said the book sounded like the boring work of a gossip writer who sensationalized information to sell copies," according to The Wall Street Journal.
It might not have been the book's fault. People just don't seem to want to read an entire book about the life of Andrew Cuomo right now. Back in October, around 900 copies of Cuomo's memoir were purchased during its first week of sales, according to Nielsen data — which tracks about 85 percent of booksellers. 
The book currently has a 1.9-star rating on Amazon. One reviewer offered their analysis of the dismal sales: "That is a high price to pay for toilet paper." (However, another reader called the book required reading for New Yorkers and said it revealed that "the price one has to pay to be successful in politics is usually a piece of one's soul.")
Or it could just be that not many people want to buy books about politicians, given the endless number of stories published in the past few years on dismal sales for political biographies and memoirs (at least about politicians still living). And, even if people buy your book, that's no guarantee that they'll actually read it. Although Hillary Clinton's Hard Choices sold just under 100,000 copies its first week in print, it appears that Kindle readers couldn't make it past the first few pages. 
What did people want to read about last week? According to the New York Times best-seller list, war, being young and dying, and being old and dying were popular subjects for book browsers.