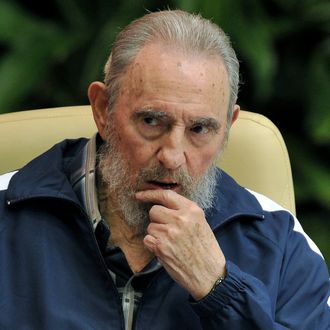 Fidel Castro.
Photo: Adalberto Roque/AFP/Getty Images
Fidel Castro — who, despite this winter's rumors, is not dead — recently made his first public appearance since January 2014, according to Cuban media.
From the Associated Press:
The Cubadebate website says Castro greeted a group of Venezuelans visiting the capital of Havana.

Cubadebate on Friday published four images that show Castro sitting inside a vehicle, each with a different person stretching an arm through the window to shake his hand. Castro's face is largely obscured by a dark-colored baseball cap. He sports longish gray hair and a beard.

The website said the encounter occurred Monday, but did not explain the delay in publishing the photos.
Newspaper Juventud Rebelde reported that the aging former leader is "full of vitality." The report also said that Castro shared "multiple details about life in Venezuela, especially now that this great nation has become the bull's eye for imperial greed," which, NBC News notes, was likely a reference to the United States' sanctioning of the country. It's nice to see that Fidel's still got it, détente aside.