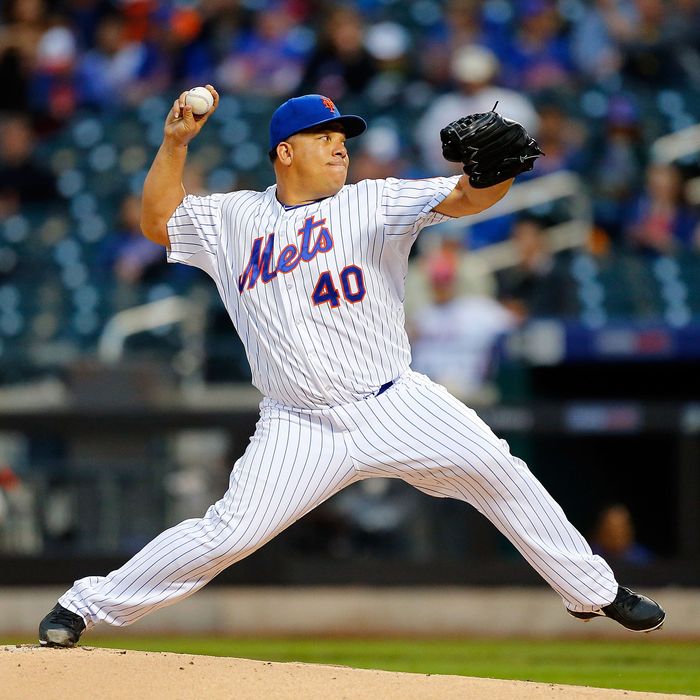 Bartolo Colon.
Photo: Jim McIsaac/Getty Images
With two of the best young pitchers in baseball anchoring their pitching staff, the Mets were supposed to improve this season, but they weren't supposed to be quite this good: They're off to an 11-3 start, which includes a perfect 8-0 record at Citi Field. It's extremely early in the season, of course, but at the moment, the Mets sit atop the N.L. East standings, and are tied with Detroit and Kansas City for the best record in the majors. It's also their best start since 1986, when they'd go on to win a franchise-record 108 games en route to a World Series victory. Even without David Wright, their captain who's been on the disabled list since last Wednesday, they've put together a nine-game winning streak heading into tonight's matchup with Atlanta. They're not doing it all with smoke and mirrors, but several Mets are exceeding expectations in the early going. Here, a look at four such players — and how likely they are to keep it going.
A 41-year Old Who Is Pitching Like an All-Star
At 41 years old, it's a minor miracle that Bartolo Colon is still in the majors at all. His 285-pound frame has held up remarkably well over the past two seasons — he made 61 starts in 2013 and 2014 combined — but so far this year, he's been a lot better than serviceable. In three starts, he's pitching to a 2.25 ERA and a brilliant 0.80 WHIP. He's walked just one batter in 20 innings of work, while recording 18 strikeouts.
Can he keep it up? At that level, no chance. But he's made a habit of defying the odds late in his career, even after sitting out 50 games in 2012 and early 2013 for a PED violation. He is just two years removed from an All-Star selection with Oakland, so even relying heavily on his fastball, he could remain a key contributor to the otherwise young rotation.
A Questionable Off-Season Acquisition Who Has Been Red Hot
Michael Cuddyer, 36, signed a two-year, $21 million deal in the off-season — a move that many criticized, since it meant the Mets would surrender a first-round pick in this year's draft to his former team, the Rockies. Cuddyer, a terrible defensive outfielder, only played 49 games last year thanks to three separate trips to the disabled list. And though his offensive numbers had been impressive in recent years — he won the batting title in 2013 — they were at least partially boosted by his playing home games in the thin air of Denver's Coors Field. So far this year, though, Cuddyer's been earning his money: He's batting .306 with a very good .840 OPS. During their current winning streak (a small sample within a small sample), he's batting a team-best .379.
Can he keep it up? Probably not. As pointed out by Jonah Keri, he has a ridiculous .452 batting average on balls in play, suggesting there's an element of luck to his hot start. The sample sizes are small, but for a guy with a projected slash line of .271/.325/.450 according to the ZiPS projection model, he's almost certain to come down to earth soon.
A Slugger Who Is Unexpectedly Leading the Team in Batting
Lucas Duda doubled his previous career high with 30 home runs last season, but transforming himself into a slugger came at the expense of hitting for average. After batting .292 during his first full season in the Majors in 2011, he hasn't hit higher than .253 since. He had reason to expect his power numbers to increase even more this season: The Mets moved in the right-center field fences prior to Opening Day, and the left-handed Duda tends to hit for power to right and right-center. So what's happened so far is strange: Duda has just one home run — but has been a stellar all-around hitter, batting a team-best .327 among qualified hitters, with seven doubles and a .916 OPS.
Can he keep it up? At 29, Duda should be right in the prime of his career, so putting up his best numbers to date isn't out of the question, especially since his power numbers should improve. Worth noting: Duda has historically struggled to hit lefties, but so far this year (again, in a very small sample), he's 5-for-10. Those numbers, at the very least, will dip as the season goes on.
A Fill-In Closer Who Has Been Perfect in Save Opportunities
That Jeurys Familia has been strong early isn't a shock: He finished seventh in rookie of the year voting last year thanks to a stellar season out of the bullpen. But he's pitching in a role he wasn't expected to be in: Jenrry Mejia was supposed to start the season as the Mets' closer, but he was placed on the disabled list shortly after the season began and a few days later was suspended 80 games for testing positive for the steroid Stanozolol. Manager Terry Collins had previously suggested that the closer role would go to Bobby Parnell when he returned from Tommy John surgery. But Familia, who took over the job with Mejia unavailable, has been so reliable that Collins now says he'll keep it even when Parnell re-joins the team. In eight appearances so far, Familia has six saves in as many opportunities, with a WHIP of 0.78.
Can he keep it up? Sure. Familia, 25, proved he could pitch in the majors last year, and so far at least, he's handled the added pressure of closing just fine.