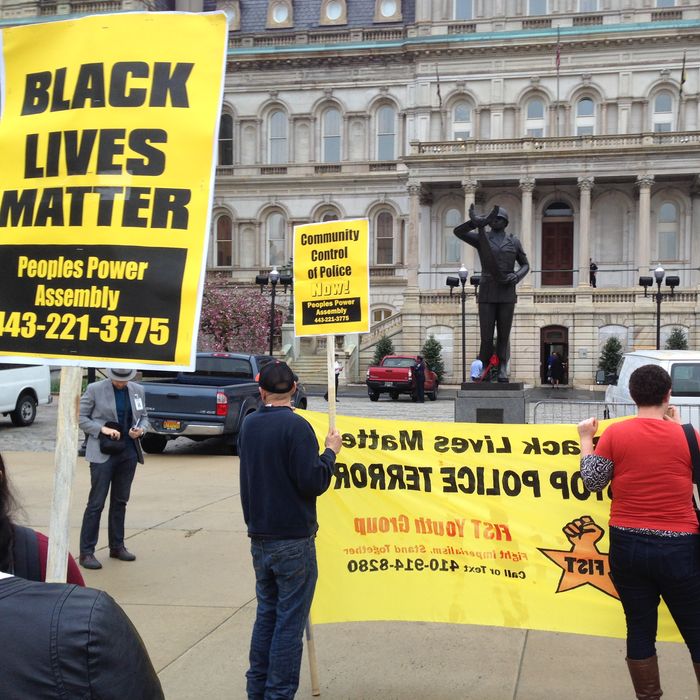 Demonstrators protest the death of Freddie Gray outside Baltimore City Hall on Monday, April 20, 2015.
Photo: David Dishneau
Six police officers in Baltimore were suspended with pay on Monday, a day after a 25-year-old black man died of a severe spinal cord injury sustained while in police custody. Freddie Gray had been in a coma since he was arrested on April 12, and he died while undergoing surgery. Protests erupted three days ago, and the case is drawing national attention as the latest example of black men dying at the hands of police.
City officials urged people to remain calm as they conduct their investigation, but the Monday afternoon press conference only added to the mystery surrounding Gray's death. While a lawyer for Gray's family claims "his spine was virtually severed, 80 percent severed, in the neck area," police have no explanation for how that happened. "We have no evidence — physical, video or statements — of any use of force," said Deputy Police Commissioner Jerry Rodriguez. "He did suffer a very tragic injury to his spinal cord, which resulted in his death. What we don't know, and what we need to get to, is how that injury occurred."
The incident began just before 8:40 a.m. on Sunday, April 12, as police were paroling a neighborhood known for drug activity, the Washington Post reports. The charging documents say Gray "fled unprovoked upon noticing police presence." He was pursued by three officers on bicycles. When police caught up to Gray and restrained him, they found a switchblade clipped to his pants pocket.
One officer took out his Taser while taking Gray into custody, but Rodriguez says he didn't use it. The report says Gray was "arrested without force or incident," but "during transport to Western District via wagon transport, the defendant suffered a medical emergency and was immediately transported to Shock Trauma via medic."
As in other recent incidents, there's a disturbing bystander video of the arrest, but it doesn't shed much light on how Gray was injured or what actually happened between the time he was put in a police van and when he arrived in the hospital. The footage starts with Gray screaming on the sidewalk, but the officers don't appear to be assaulting him. Gray's feet drag on the ground as police move him into the van, and the woman filming shouts, "His leg's broke and y'all dragging him like that?!"
On Monday police released surveillance video of the arrest, but the camera was moving automatically and captured even less of the incident.
Police Commissioner Anthony W. Batts said that Gray asked for his inhaler as he was loaded into the van, but it's unclear if he received any medical attention. Four minutes later, the driver said Gray was "acting irate in the back," so he was put in leg shackles. The vehicle stopped again to pick up another suspect, but the other prisoner was separated from Gray by a metal barrier and could only hear what was happening.
Two witnesses told the Baltimore Sun that they heard Gray screaming from the van and saw police roughing him up, though at five foot eight and 145 pounds, he wasn't a threat. "Those big police beating on a boy like that. They could have taken him with one hand," said witness Tobias Sellers. A police spokesman said there's "no indication of any physical assault or any use of force."
"When Mr. Gray was put in that van, he could talk and he was upset," Rodriguez said. "When he was taken out of that van, he could not talk and he could not breathe." He added that the preliminary autopsy results show Gray "did suffer a significant spinal injury that led to his death," but did not have any broken bones. The medical examiner has yet to rule on Gray's cause of death.
Rodriguez said on Sunday that police on the scene believed Gray was "immediately involved or recently involved in criminal activity." The Baltimore Sun reports that he had been arrested in the past, mostly for drug charges and minor crimes, and he had several cases scheduled for trial.
William "Billy" Murphy Jr., the lawyer representing Gray's family, pointed out that there's "no such thing as felony running," and said police had no reason to take him into custody. City officials acknowledged that police should have asked for paramedics earlier, and Baltimore mayor Stephanie Rawlings-Blake said, "We know that having a knife is not necessarily a crime." The Baltimore Police Department is already being reviewed by the Justice Department for potential civil-rights abuses, and a spokesman for the federal department said intervening in the investigation of Gray's death would be "premature" at this point.
Murphy said the family has "no confidence" that the police investigation, which is set to be completed on May 1, will uncover the truth. Demonstrators turned out again on Monday, marching from the spot where Gray was detained to the Western District police station while chanting "Black lives matter!" and "All night, all day! We gonna fight for Freddie Gray!"