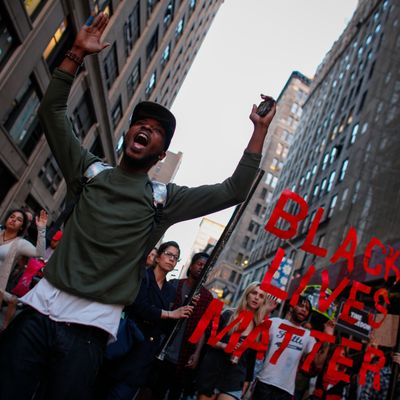 A protester yells as he takes part during a protest on Solidarity With City Of Baltimore on April 29, 2015 in New York City.
Photo: Kena Betancur/Getty Images
Two nights after Baltimore was burned and looted by rioters, the city's curfew appears to be working. National Guardsmen and police in riot gear were stationed through the city once again, but at 10 p.m. only a few stragglers were still out. Members of the community were credited with helping clear the streets, averting clashes with police. "We are very proud of what has happened here tonight. We are proud of our city," said Congressman Elijah Cummings.
Earlier on Wednesday evening, protesters across the country turned out by the thousands to express their outrage over the death of Freddie Gray and other victims of police brutality. Massive demonstrations in Washington, D.C., Boston, and Minneapolis were peaceful, but a march in New York ended with the arrest of more than 60 protesters. Here's a look at the solidarity marches across the nation.
BALTIMORE
After school on Wednesday, hundreds of high school and college students marched across the city, meeting at Penn Station then heading to a rally at City Hall. The group called for an end to police violence and the repeal of the Law Enforcement Officers Bill of Rights, which gives officers legal protections during misconduct investigations.
They said they wanted to stage a peaceful demonstration to show they don't stand with the students who started Monday's riot. "I thought it was very important that the media, the world, see the youth care about Baltimore," Darius Craig, a senior at Digital Harbor High School, told the Baltimore Sun. "I want people to know that we love our Charm City."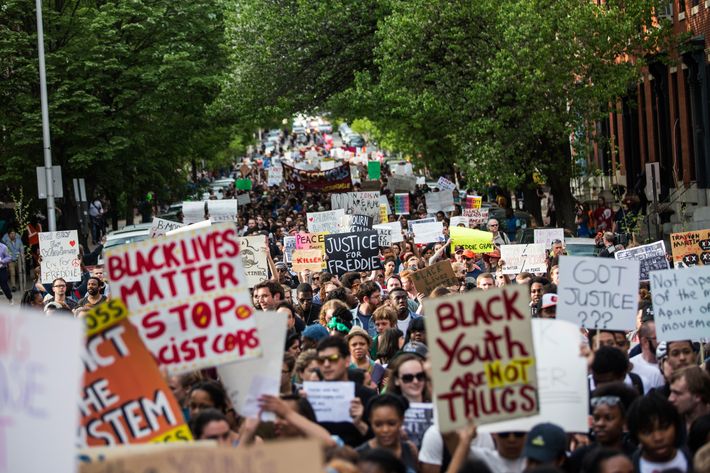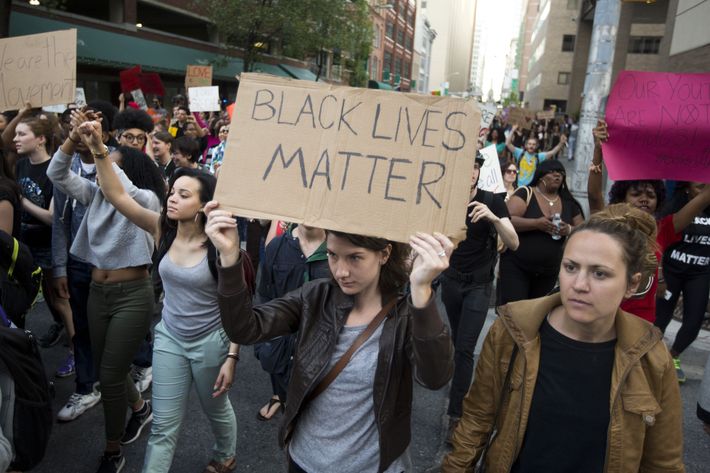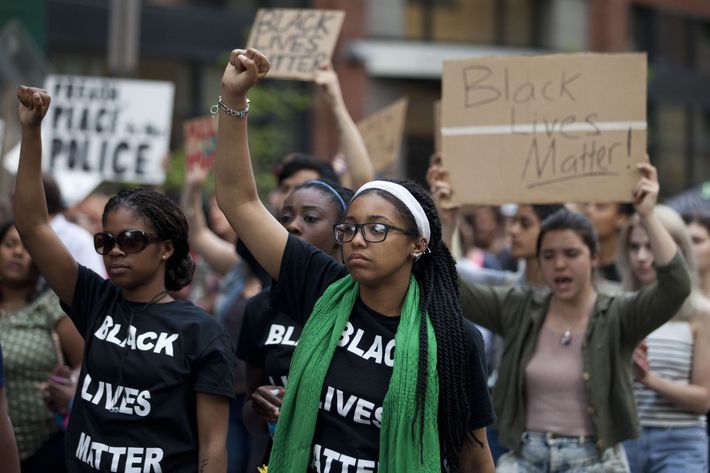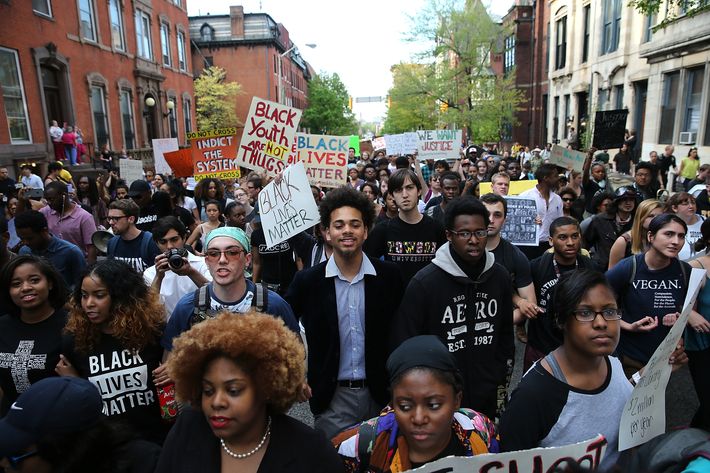 NEW YORK
More than a thousand people gathered in Union Square at 6 p.m. in an effort "to show the people of Baltimore that we stand in solidarity with them and with their resistance because their resistance is for justice and their justice is our justice," according to the event's Facebook page. Newsweek reports that after several people addressed the crowd, including relatives of Eric Garner, the protest split in half.
One group marched to Times Square behind a banner that read "Black Lives Matter," and another group headed south on Broadway. Earlier, police said anyone standing in the street would be arrested, but protesters proceeded to block traffic in Greenwich Village, and some sat in the street at the intersection of Broadway and Houston. When the group briefly blocked the West Side Highway, police in riot gear began making arrests, restraining protesters with zip ties and corralling them into police vans.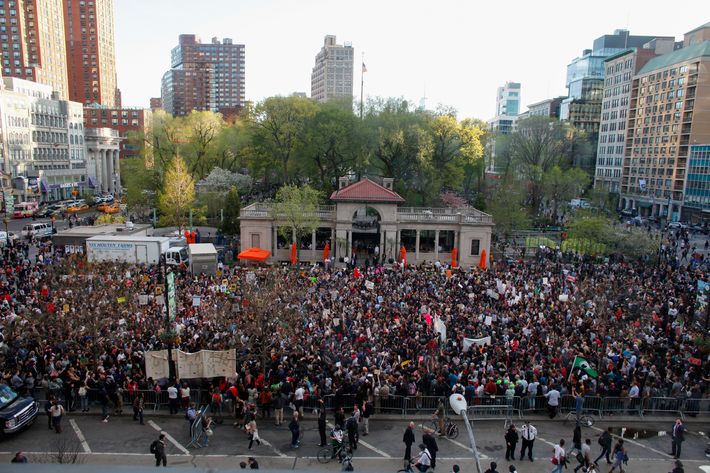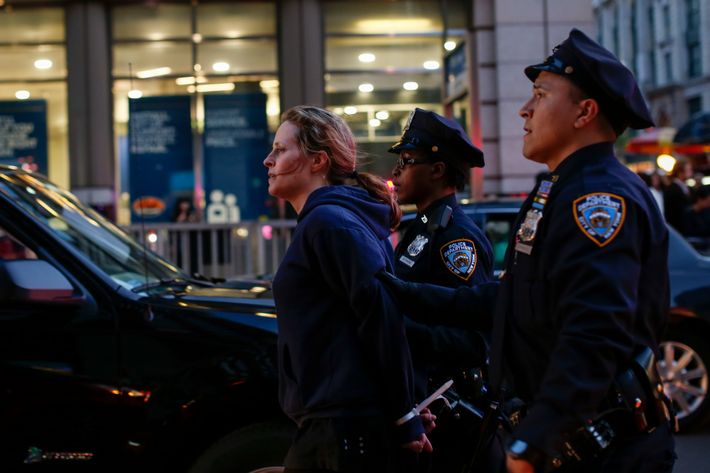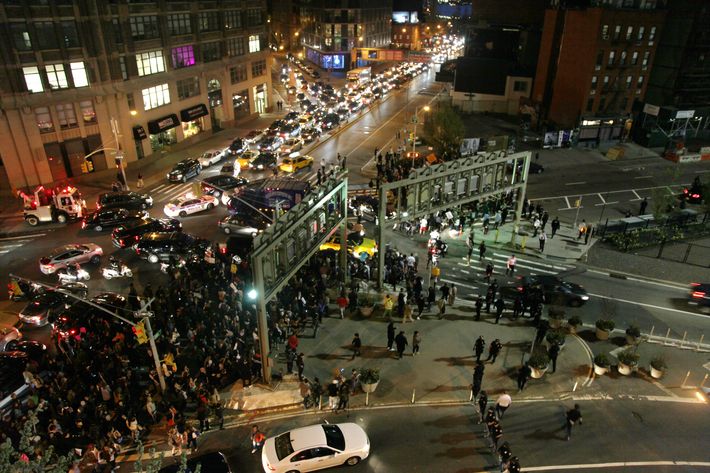 WASHINGTON, D.C.
Protesters began marching from the Gallery Place Metro and Dupont Circle around 7 p.m., and they arrived outside the White House around 9 p.m. According to the Washington Post, they discussed D.C.'s living wage movement, gentrification, and reparations in addition to police brutality. "All these issues are connected," said protester Gaurav Madan. "We are trying to fix a system that prioritizes property and profits over human life."
FERGUSON, MISSOURI
In Ferguson several dozen people marched in the streets on Wednesday night, sometimes blocking traffic. Around 10:30 p.m. one group was demonstrating near the spot where Michael Brown was killed by a police officer in August, and another was outside police headquarters.
So far the situation is calmer than it was last night, when a gas station was looted, small fires were started, and at least three people were wounded by gunfire.
BOSTON
More than 500 people participated in a peaceful march through the streets of Boston on Wednesday night, according to the Boston Globe. "We have a clear message," said organizer Brock Satter. "We're going to demand the government indict the killers of Freddie Gray. If you want peace, if you want calm, jail the killers of Freddie Gray." He said they were also demanding the withdrawal of the National Guard in Baltimore, an end to the curfew, and amnesty for the protesters.
"We stand with Baltimore, we stand with Ferguson, we stand with Staten Island," said speaker Nikea Ramsey, whose brother, Burrell Ramsey-White, was killed by Boston police three years ago. "This pain is real," she added. "I just had a baby, three months old, never going to meet his uncle."
MINNEAPOLIS
About 1,500 people turned out for a peaceful protest that wound through downtown Minneapolis on Wednesday night. The Star Tribune reports that the march was led by a group of black men carrying a coffin. "We don't have to condone [the violence] to understand it," said organizer Lena Gardner, referring to the riot in Baltimore. "We just want them to know that we love them, we support them and grieve with them."
HOUSTON
On Wednesday evening about 50 people gathered at an intersection near the south Houston campus of historically black Texas Southern University, CBS Houston reports. They held signs that read "Honk for justice" and "America's worst nightmare."
INDIANAPOLIS
About 30 marched in downtown Indianapolis on Wednesday evening to express their solidarity with Baltimore. According to the Indianapolis Star, one speaker said Indianapolis has been "too inactive" on the issue. "People don't want to believe it's going on," said Rekia Boyd, one of the organizers. "But it's happening here."