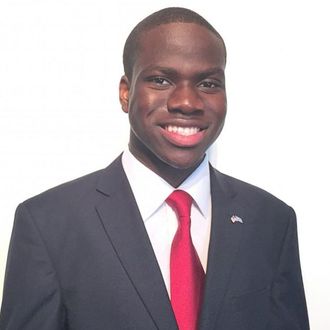 Harold Ekeh
Photo: Courtesy of Harold Ekeh
17-year-old Long Island high-school student Harold Ekeh is homecoming king, salutatorian, editor-in-chief of the newspaper, and vice-president of Model U.N. Oh, and he also applied and got accepted to all eight Ivy League schools. Ugh, what an overachiever.
The Nigerian-born senior realized all of his studying actually paid off on March 31, when he learned he'd been accepted to Yale, Harvard, Brown, Columbia, Cornell, Dartmouth, Penn, and Princeton. As if that weren't enough, MIT, NYU, Johns Hopkins, Vanderbilt, and SUNY Stony Brook also offered him admission, making him even more successful at getting into colleges than Kwasi Enin, the kid who made it into all eight Ivies last year.
Ekeh, who scored a 2270 on the SATs and is interested in studying medicine, says he's leaning toward Yale. Okay, smartypants, but can you list Taylor Swift's discography in alphabetical order? You can? Well then.