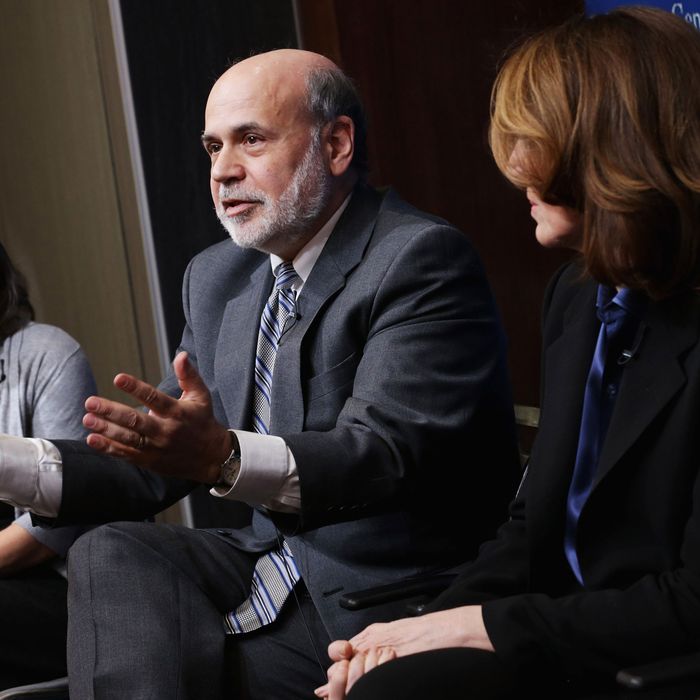 "I am going to make this much money at a hedge fund."
Photo: Chip Somodevilla/Getty Images
When Ben Bernanke left his perch as the chairman of the Federal Reserve, he did not walk through the revolving door, unlike many other regulatory officials before him and despite the lucrative offers thrown at him. Instead, the former Princeton academic went to the Brookings Institution. But as it turns out, it was just a matter of time. DealBook reports that Bernanke has accepted a position with Citadel, a massive hedge fund.
In an interview with DealBook, Bernanke argues that this does not really mean he is now advising a firm that he was once responsible for overseeing: 
Mr. Bernanke said he was sensitive to the public's anxieties about the "revolving door" between Wall Street and Washington and chose to go to Citadel, in part, because it "is not regulated by the Federal Reserve and I won't be doing lobbying of any sort." He added that he had been recruited by banks but declined their offers. "I wanted to avoid the appearance of a conflict of interest," he said. "I ruled out any firm that was regulated by the Federal Reserve."
It's a similar argument to the one you heard made when Timothy Geithner, the former Treasury secretary, joined a private-equity firm after leaving the Obama administration: 
"When they approached me, they clearly wanted me to play a substantive role in helping them manage the firm," [Geithner] said. Citing the firm's global reach and "low-key" nature, he said Warburg is "culturally very compatible with what I was looking for" … Mr. Geithner has long considered a career in investing once his days in Washington ended. He has been reluctant to take a job with any banks, which he once regulated, and views private-equity firms and other investment managers as different from the institutions he oversaw as New York Fed chief.
And it is, of course, poppycock. It's true that the Treasury and the New York Fed do not directly oversee Warburg Pincus and that the Federal Reserve does not directly oversee Citadel. But the Dodd-Frank reform law created a powerful new body, the Financial Stability Oversight Council, charged with monitoring and safeguarding the entire financial system — and that means overseeing hedge funds and private-equity firms. Guess who sits on that council? The Treasury secretary and the head of the Federal Reserve. 
Furthermore, regarding Bernanke, there are plenty of instances of the Fed investigating and even intervening in the activities of hedge funds. Here's a fun story about Bernanke's Fed looking into none other than Citadel, during the financial crisis. Here's another one, about the Fed arranging and supervising the bailout of a hedge fund for financial stability's sake. 
Why do it? Well, here's the most depressing quote from that DealBook story, by way of explanation:
It is inevitable, if you are a bright, knowledgeable, battle-trained regulator or top-level player," said Erik Gordon, a professor at the Ross School of Business of the University of Michigan. "It takes a really unusual public servant to be able to decline the siren song of making a lot of money."
The revolving door — it revolves again.