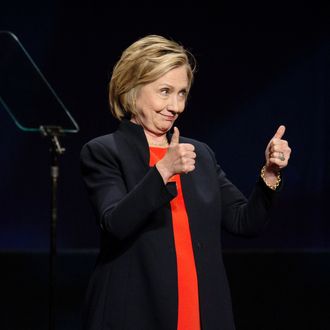 Around 3 p.m. on Sunday, HillaryClinton.com went live. On the home page is a YouTube video, featuring two minutes of a diverse group of people — college students, gay couples, factory workers, women about to retire — saying what they are getting ready to do in 2015. At the end, Hillary Clinton appears and finally said the sentence that we knew was bound to come.  
"I'm getting ready to do something, too. I'm running for president."
"Americans have fought their way back from tough economic times," she goes on to say of those who don't happen to be part of the one percent, beginning to lay out the economic message we also knew was coming. 
"Everyday Americans need a champion, and I want to be that champion." 
And thus Hillary Clinton's 2016 presidential campaign began. 
Her campaign's Facebook page is live, too. That's where she first announced her big news to those she'd like to win votes from next year. The news is also Twitter official — and has already been retweeted tens of thousands of times.
And, as you might have guessed, her Twitter bio no longer says TBD. 
However, the news first broke — the news of her announcement, not the obvious fact that she was going to run — via emails that John Podesta, the chair of Clinton's campaign, sent to former Hillary '08 campaigners and potential donors. Many people on Twitter — who had been waiting all afternoon for the news to drop (and cracked enough jokes that several articles were written about waiting for the announcement) — read a bit too much into this. 
Several of Clinton's potential opponents wasted no time attacking her. Senator Rand Paul — who entered the 2016 race last week — talked about Hillary on the Sunday shows (everyone talked about Hillary on the Sunday shows) and released a web video about her.  
His campaign also debuted new Hillary Clinton-themed merchandise.
As the Washington Post reported on Saturday, the Republican Party has readied an intense "Stop Hillary" campaign that has already begun, even though we are less than a day into Clinton's official campaign.
Senator Ted Cruz, who was the first serious candidate to announce a 2016 campaign, said he was ready for Hillary — but not in the same way as the Ready for Hillary super-PAC (which is simply called Ready PAC now that Hillary is an official candidate).
Senator Marco Rubio, who plans to announce his presidential campaign tomorrow, quickly announced that he was ready for … something else. 
However, allies are also quickly announcing their support — something many organizations have probably been excited to do for a long time. Emily's List endorsed Clinton shortly after her announcement.
And among the thousands of people who liked Hillary Clinton's Facebook announcement, you will find a few very familiar names — like Sheryl Sandberg's.
However, no one seemed quite as excited as Maryland senator Barbara Mikulski. Her statement on the announcement began with "Whoopee, Hillary is off and running!"
So what's next? Clinton is heading to Iowa next week, and plans to hold many small events with voters and party officials in primary states for the rest of April. Her first big speech isn't scheduled until next month. 
Until then, get ready for endless analysis of her now-official campaign — and her campaign's logo.