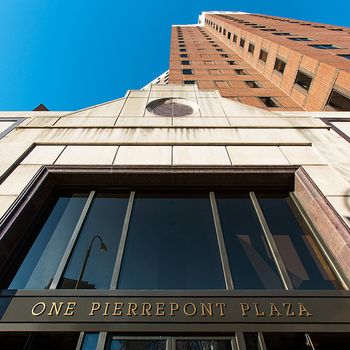 Photo: Courtesy of 1 Pierrepont Plaza
Hillary Clinton has signed the lease for a campaign headquarters in Brooklyn, according to a report from Politico. Clinton's two-story office will be in the fancy-shmancy neighborhood of Brooklyn Heights, close to 12 subway lines and the shops and restaurants on Montague. The building website describes it as "Modern Offices. Brooklyn Cool." — which will hopefully also be her campaign slogan.
The office space at 1 Pierrepont Plaza will take up two floors, and will make Clinton and her team neighbors with the U.S. attorney for the Eastern District of New York and Morgan Stanley, which seems about right. Politico reports that if the lease has officially been signed by a Clinton campaign representative, she'll have 15 days to file a campaign committee or risk a complaint with the Federal Election Committee. 
The Pierrepont Plaza website has a helpful map that shows potential renters just how close they'll be to the important things in life, such as Chipotle, Urban Outfitters, and Barney's Coop. Additionally, the office is also a block away from Clinton Street. It's fate, you guys.