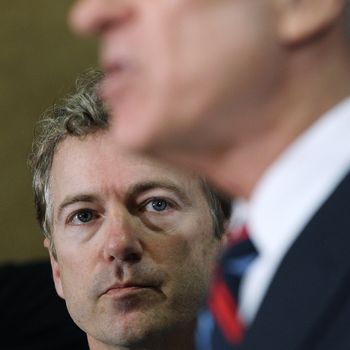 Rand Paul looks at his father, Ron Paul, during a campaign stop on January 2, 2012 in Des Moines, Iowa.
Photo: Justin Sullivan/2012 Getty Images
Rand Paul's name usually doesn't come up when people complain about Jeb Bush and Hillary Clinton attempting to further a presidential dynasty, but that's not due to a lack of trying on his father's part. Former congressman Ron Paul ran for president in 2008 and 2012, and throughout his political career, the Kentucky senator has been trying to balance the perks and pitfalls of following in his famous father's footsteps.
By all accounts the Pauls have a close personal relationship. Rand has been working on his father's campaigns since the age of 10, doing everything from knocking on doors to acting as his surrogate, and Ron returned the favor when his son ran for the Senate in 2010. But since then, it appears Rand has grown increasingly agitated with the media's discussion of his "daddy issues," and the New York Times reports that while Ron will be present when Rand announces his own presidential bid on Tuesday, he will have a "silent role" in the campaign. Here's how Rand gradually put some distance between himself and the other libertarian doctor turned presidential candidate.
The Wall Street Journal unearthed a number of videos of Rand happily stumping for his father in 2007 and 2008, but as soon as he announced his own campaign in 2010, he had to answer a question about his dad: Did he name him "Rand" because of his love for Ayn Rand? He explained it's just a nickname for Randal, while repeatedly assuring potential voters that both he and his father are Ayn Rand fans.
As BuzzFeed noted recently, while Rand was quick to mock Bush and Clinton for being part of a political dynasty, in a 2009 interview with AntiWar.com radio, he admitted that he'd have no political career if it weren't for his dad. "I couldn't have done this in 2006 because, ya know, my father's campaign hadn't grown to a national level," Paul said. "I hadn't gone out and helped him in many different states and become well known to some people in the movement. No, I couldn't have done this in 2006 in a statewide race, but it does allow me now to run a statewide race and be treated as a credible candidate."
"So it has opened doors, it hopefully will open doors in fundraising," Rand said. He added that while many political dynasties are "pretty crummy," the Pauls offer "a political family that will be a little bit better for individual freedom."
Once Rand was elected, he and his father did a number of joint interviews, which usually included questions about whether they ever disagree. (As CNN explains, there are a number of political issues where they don't see eye to eye, from the NSA to Russia to the war on drugs.) They seemed happy to offer up quips about arguments over Thanksgiving dinner. "We don't really have heated disagreements," Rand told the Houston Chronicle in 2011. "Neither of us are yellers. I do joke that I don't criticize my dad on TV or I might get kicked (out) from the adult table."
In a CNN interview that year, Ron joked (at the five-minute mark) that if the senator plays his cards right, someday he "might make it to the House of Representatives."
But by January 2014, Rand had gotten caught up in controversies over Ron's opposition to foreign intervention and questionable record on race, and anecdotes about debating Reagan-era policies on long father-son car rides were wearing thin. Rand seemed perturbed when asked on Meet the Press if his father's legacy was a "shadow" hanging over him.
In an interview later that month with the New York Times, Paul called his father "my hero," but said it was time for people to consider his own record. "I want to be judged by who I am, not by a relationship," Paul said. "I have wanted to develop my own way, and my own, I guess, connections to other intellectual movements myself when I came to Washington."
A few months later, he told the Daily Caller he'd "pretty much quit answering" questions about his father's beliefs. "I've been in the Senate three years, and I have created a record of myself," he said. "And I have my opinions." He said he didn't think George W. Bush got "tons of questions" about his dad when he ran for president.
Over the last few months, Rand's budding campaign team tried to emphasize that he's his own man — though he still hopes to win over his father's supporters. Jesse Benton, who's worked as a top adviser to both Pauls, told Politico, "Ron is in his lane, and Rand is in his lane," and they rarely discuss policy. Meanwhile, Rand's spokesman, Sergio Gor, told the Washington Post that while the father and son "each attract new people to the party in their own unique ways," they share a "passion" for liberty. "Among the thousands of people Sen. Paul meets every month, the most enthused and energetic are usually those individuals who supported his father," he said. "The same individuals continue to stand with Rand."
As for the Pauls themselves, Rand has been less voluble in recent assessments of how his father helped his career. He downplayed his role in his father's 2012 campaign when speaking with the Times, claiming he just gave a few speeches. "I really wasn't involved with the organization of the campaign or any of the running or the tactics of it," he said. The Journal reports that when he was asked what he learned on his father's campaigns, he joked, "Avoid houses with big dogs."
The elder Paul has backed off, too. He was declining all interview requests last week, and a few months ago he snapped at a Washington Post reporter who asked if he was hurting his son's 2016 chances, "Have a heart, buddy." But Benton, who runs Rand's super-PAC, told the Times that Ron's ready to pitch in if needed. "If the situation arises and Rand asks, I bet he'll do what Rand asks," Benton said — though he added, "at this point in time, I don't think there are plans for anything all that much."