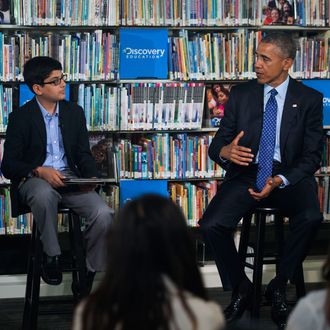 Photo: Shawn Thew/Pool/Corbis
Osman Yaya, a sixth-grader from Bennett Middle School in Salisbury, Maryland, interviewed President Obama today at a public library in D.C. Unlike most presidential interviewers, he had the courage to tell Obama that his answers are sometimes too long and boring. 
At one point, Obama gave an extended answer about writer's block, and Yaya, thinking of his audience, interrupted to say, "I think we've sort of covered everything about that question."
Yaya also offered to lend Obama some of his favorite books, and told the president, "To make you feel younger, my best friend read Treasure Island," after Obama listed some of the books he read growing up. "That does make me feel better," Obama said.
The president also discussed Dr. Seuss, Grumpy Cat, and Wite-Out, a nearly extinct office staple that Obama had to explain to the students in the audience.
One 12-year-old student asked Obama what inspired him to be president. He replied that he definitely didn't want to be president when he was her age, instead dreaming of being an architect or basketball player. Alas, he was "not that good."
"I was pretty good in high school," he added. 
The library interview was part of the White House's "Virtual Field Trip" series, which encourages students around the country to tune in and listen to administration officials talk about policy, which kids probably think is pretty boring unless the president is involved. Obama announced a new program at the event through which publishers will provide $250 million in free e-books to low-income students.