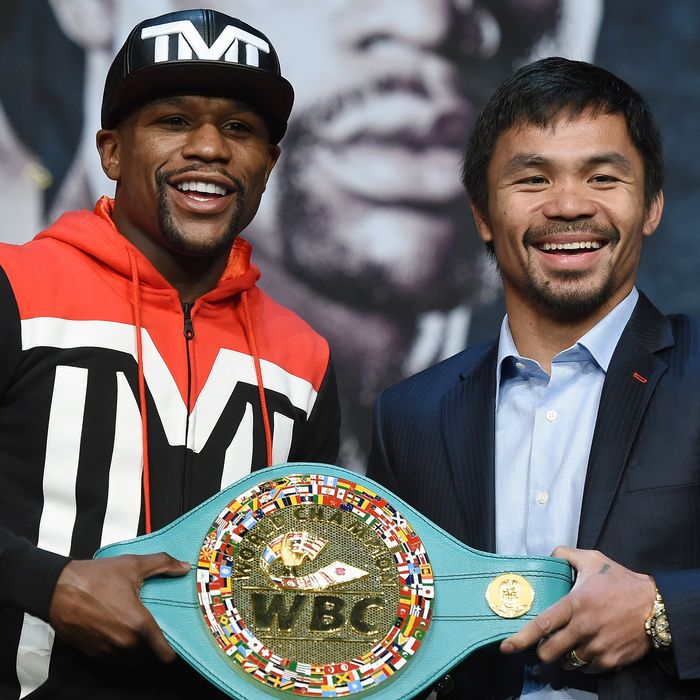 Floyd Mayweather Jr. and Manny Pacquiao.
Photo: Ethan Miller/Getty Images
Boxing fans have been waiting years for Saturday night's fight between Floyd Mayweather Jr. and Manny Pacquiao, but those who want to attend in person should be prepared to pay outrageous prices for tickets. According to SeatGeek.com, the fight will likely wind up the most expensive sports ticket of all time, based on the average resale price of tickets on the secondary market. Here, a by-the-numbers look at the ticket market for the bout.
500
The number of tickets, out of 16,800 total for the fight, that went on sale to the general public.
30
The number of seconds it took for those seats to sell out.
$1,500
Face value of the least expensive seat made available for sale to the public.
$10,000
Face value of a ringside ticket, none of which were made available to the public.
$3,010
The cheapest ticket purchased so far on the secondary market, according to SeatGeek.com.
$351,005.25
The asking price of a ringside ticket in row AA on StubHub — the most expensive one listed on the site as of Thursday afternoon.
50,000
The number of tickets MGM sold, at $150 each, to watch the fight on a closed-circuit TV feed inside its various properties on the strip.
$5,580
The average resale price of the 2014 World Cup Final, until now the most expensive event of all time, according to SeatGeek. As of Thursday afternoon, the average resale price for the fight was $7,900, and when all is said and done it'll likely be the new most expensive sporting event ever.
1
Number of free tickets reportedly given away by promoter Bob Arum. He gave it to MMA fighter Ronda Rousey after he heard she was prepared to spend huge money on a prime seat.
$130.01
The cheapest ticket on StubHub, as of Thursday afternoon, to attend the weigh-in for Saturday's fight.
$3 million-$4 million
Reported total Pacquaio is spending on 900 tickets for his entourage.
$99.99
The cost to watch on pay-per-view from home.
* This post originally stated that MMA fighter Tito Ortiz spent $257,410.50 on tickets to the fight. He did not.