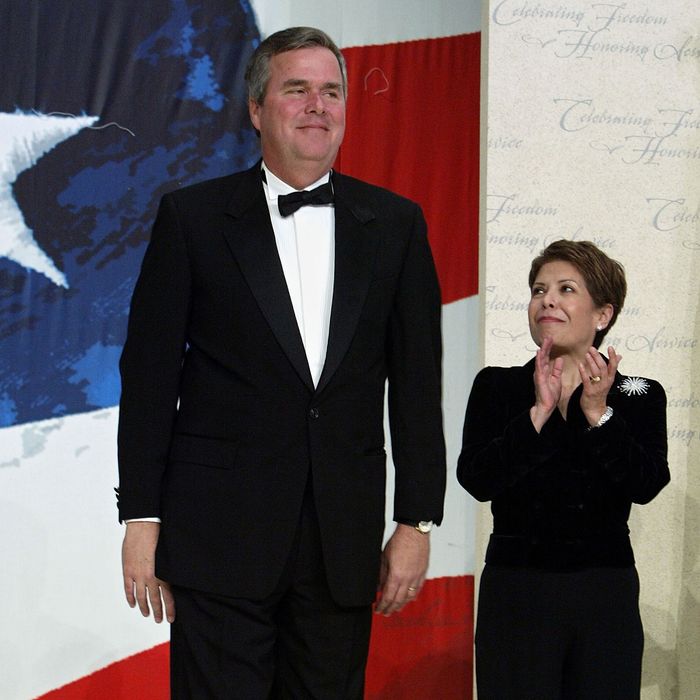 According to this photo, Google is wrong. Jeb Bush is actually taller than Hagrid.
Photo: Mario Tama/Getty Images
CNN looked at the latest Google search data on 2016 presidential hopefuls, and it turns out people have lots of questions — just not about anything that involves their qualifications to be president. The most searched question involving Jeb Bush was "How tall is Jeb Bush?" (In case you were about to go find out the answer to this question yourself, Google says he is six foot three, slightly taller than his brother and Barack Obama.)
People also were very curious to learn the height of Senator Rand Paul. Is this a useless barometer of where things stand in the presidential race? Perhaps, but guess who else people are curious to know the height of?

In most presidential elections in American history, the taller candidate has won. However, it seems likely that this is a popular search term not for this somewhat logical reason, but because Google is the leading purveyor of information about the height of celebrities, which humans are programmed to desire and seek out surreptitiously. 
Internet users also relied on Google to tell them how old Hillary Clinton and Scott Walker are, where Ted Cruz was born, and how much weight New Jersey governor Chris Christie has lost.