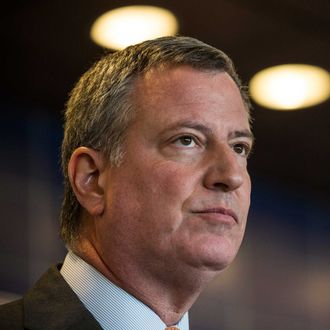 Photo: Andrew Burton/Getty Images
New York City mayor Bill de Blasio embarked on a trip to the midwest this week on a mission to "lead the nation leftward." That's a very noble goal and all, but unfortunately for Bill, nobody in Iowa seems to know who he is.
"Was he the one who outlawed the large sodas?" one 27-year-old Iowan wondered when asked about de Blasio. He wasn't alone; according to The Wall Street Journal, many Iowa residents they spoke with thought the New York City mayor was still Michael Bloomberg, and one woman even thought Rudy Giuliani was still running the city.
Without their own personal experience with de Blasio's policies to draw from, Iowans resorted to second-hand opinions. "I have a friend in New York who doesn't like him," one said.
Welcome to #deblasiosmidwest.