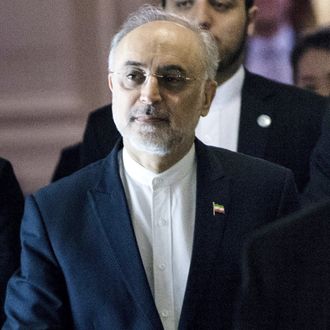 Photo: Brendan Smialowski/AFP/Getty Images
The United States, Britain, France, Germany, Russia, and China were reportedly very close to an agreement with Iran on nuclear power yesterday, and are furiously trying to patch the remaining problems even though the deadline passed at midnight. The hope is that a deal might be reached on April Fools' Day. "I hope that we can finalize the work on Wednesday and hopefully start the process of drafting," Iranian foreign minister Javad Zarif told The Wall Street Journal. French foreign minister Laurent Fabius didn't seem as optimistic, telling Reuters, "Things have progressed, but not enough … that we can reach an immediate deal. We are firm. We want a robust deal with detailed checks."
"Fingers crossed." said British foreign secretary Philip Hammond. Another diplomat who wanted to remain anonymous, probably because of their less-than-sunny opinions, told the Washington Post that the deal didn't seem so close. 
The biggest sticking points remaining concern how quickly United Nations sanctions against Iran would be lifted, how much nuclear research Iran will be able to continue doing, and where in the world Iran's enriched uranium will go. 
The White House was especially interested in making sure that negotiations were successful this week, although the official deadline for an accord is not until the end of June; the longer it takes to hammer out the details of the agreement, the less likely everyone will agree on it in the end. Republicans in Congress have said that they would consider passing new sanctions against Iran if a deal were not reached. However, Congress is on break until April 14. 
A Pew Research Center poll from this week shows that 49 percent of Americans approve of the negotiations; 62 percent believe, however, that Congress should have the final say in approving the final accord.