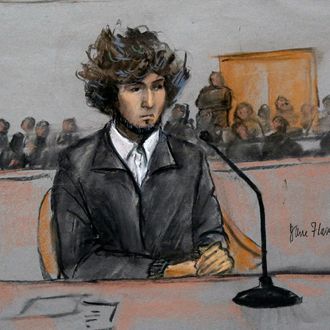 Photo: Jane Flavell Collins/AP
Dzhokhar Tsarnaev, the 21-year-old University of Massachusetts Dartmouth student accused of orchestrating the Boston Marathon bombings along with his brother Tamerlan in 2013, was found guilty on Wednesday. The jury will decide in the upcoming days if Tsarnaev will receive the death penalty or life in prison.
As the jury read its guilty verdict, Tsarnaev sat motionless with his hands folded, appearing totally calm. The jury, which deliberated for 11 hours, found that Dzhokhar and his late older brother planted bombs at the Boston Marathon on April 15, 2013, killing three people and injuring more than 260 others. Tsarnaev was also found guilty of killing an MIT police officer while on the run.
Tsarnaev faced 30 counts, 17 of which make him eligible for the death penalty. He was found guilty on all 30.
This is a breaking story and will be updated as we learn more information.