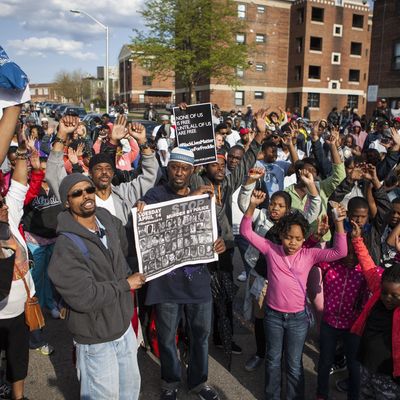 Thousands march in front of the Baltimore Police Department's Western District police station on April 21, 2015.
Photo: Samuel Corum/Anadolu Agency/Getty Images
A day after Baltimore officials said they can't explain how Freddie Gray, a 25-year-old black man, sustained a fatal spinal cord injury while in police custody, the U.S. Justice Department launched a probe into his death. Gray was arrested on April 12 after he ran from police and a switchblade was found in his pocket. He was in a coma for a week and died in surgery on Sunday. Following a request from five members of Maryland's congressional delegation, DOJ spokeswoman Dena Iverson announced on Tuesday, "Based on preliminary information, the Justice Department has officially opened this matter and is gathering information to determine whether any prosecutable civil-rights violation occurred."
The police department has suspended six officers with pay pending the results of its own investigation, which are expected by May 1. Baltimore mayor Stephanie Rawlings-Blake said she welcomes federal involvement in the case. "This outside review will assist us in getting to the bottom of what happened to Mr. Gray in the most objective and transparent way possible," she said, according to The Wall Street Journal.
The Justice Department has launched probes into several other recent incidents in which black men were killed by police, but it's rare that the department concludes civil-rights charges against police officers are warranted. Baltimore is already the subject of a separate Justice Department probe, which was requested by city officials after the Baltimore Sun reported that $5.7 million in taxpayer funds went toward judgments and settlements in 102 lawsuits alleging police misconduct since 2011.
More than 1,000 people gathered on Tuesday in the fourth day of protests over Gray's death. CNN reports one person was arrested for crossing a barricade, but the demonstration was peaceful. Protesters have said they want to see the six officers involved in Gray's death fired and charged with first-degree murder.