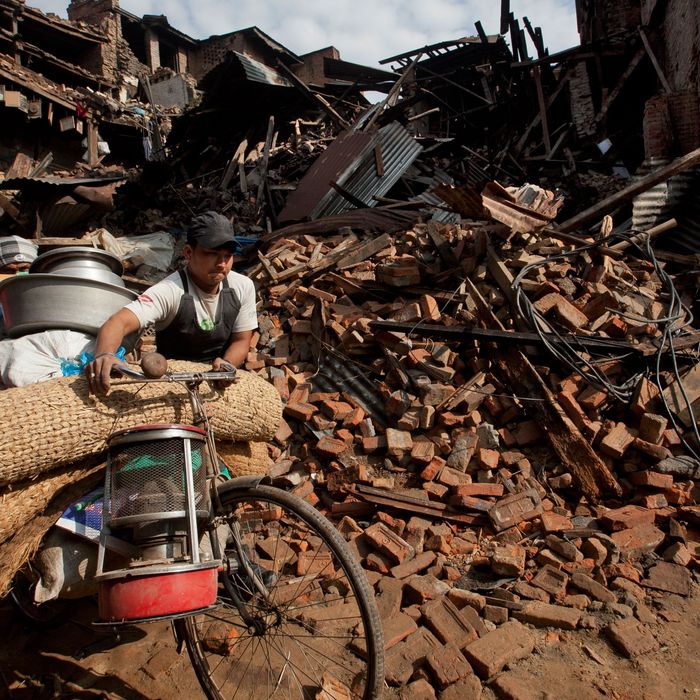 Photo: Niranjan Shrestha/AP/Corbis
Two days after a 7.8-magnitude earthquake struck Nepal, more than 3,800 people have been confirmed dead, and many think that the death toll could rise significantly based on initial reports from rural areas. More than 6,300 are injured, and tens of thousands of people have lost their homes. The United Nations estimates that 6.6 million people live in the affected area.
That number did not include casualties from neighboring countries like China or Tibet, or the 19 climbers confirmed dead on Mount Everest. Rescuers were able to take around 50 injured climbers to safety on Sunday, but the continuing, intense aftershocks complicated rescue missions. 
No one knows how many people are trapped on the mountain, but more than a thousand people can be stationed there during peak climbing weather. 
A German climber took a video of an avalanche that struck Everest's base camp. As you might expect, the footage, which he uploaded to YouTube and already has nearly more than 6 million views, features some language.
Reports of dead foreigners are also starting to filter in. Three Americans were killed — a Google engineer, a medic, and someone making a film — and other countries with many people currently visiting the country, like Australia, Bangladesh, China, and the United Kingdom, are trying to locate missing people.
The scene at Kathmandu's airport is chaotic. The country is receiving massive shipments of supplies from around the world. The U.S. is sending relief teams, China is sending another team with dogs, and India has sent hundreds of disaster response workers. "India will do its best to wipe the tears of every Nepali, hold their hands and stand with them," Prime Minister Narendra Modi said on a Sunday radio broadcast. 
However, the airport's tiny size — and additional congestion caused by many people trying to flee the disaster — has caused delays. The roads leading out of Kathmandu are also crowded, and the escape process is slow. 
The government has said that they are running low on everything, including body bags. An official in the prime minister's office told Reuters, "The morgues are getting totally full." The hospitals are also getting full, and many of the sick and injured in Kathmandu have been lying outside. Some people looking for shelter have resorted to climbing in sewage pipes meant to help rebuild the country. In remote villages, the situation is even worse. A woman from Saurpani told the New York Times, "We have no shelter, no food and all the bodies are scattered around."
Nepal was suffering a shortage of medical operations before this weekend's crisis. A World Health Organization report from 2011 showed that the country had about two doctors for every 10,000 people. 
After the missing are recovered or rescued, Nepal's damaged infrastructure will next need to be fixed. The total cost could top $5 billion. Nepal's economy generates about $20 billion per year, and depends much on tourism income, which is sure to diminish in upcoming months.