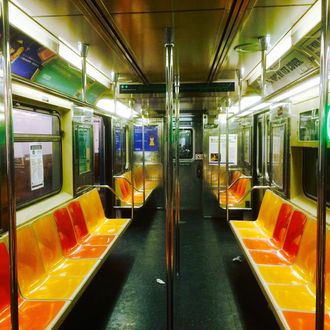 Your worst nightmare.
Photo: David Troncoso/Getty Images
DNAinfo reports that 52-year-old Michael Kneitel is fighting for the inalienable right to life, liberty, and the pursuit of subway cars that are not filled with pee. 
On February 17, the auto mechanic got on the Coney Island–bound F-train at the Jay Street-MetroTech stop and quickly surmised that he would not have an enjoyable ride, as someone was currently peeing on the very car he had chosen. He didn't think he had time to exit and enter another car, so he decided to use the door between subway cars to make a quick escape. That led him to receive a $75 fine, which the MTA declined to waive after Kneitel explained the dire circumstances of his emergency exit. He then filed a petition with the Brooklyn Supreme Court.  
"I'm going to stand up to the MTA and say, 'You know what? You messed up,'" Kneitel told DNAinfo. "I'm going to take this ruling and stick it so far up their a-hole until it reaches the back of their teeth."
This is not the first time Kneitel has had legal problems in New York City.
He was arrested in 2001 after an off-duty cop out for a run in Brooklyn noticed Kneitel firing a pistol at what later was revealed to be a photograph of his girlfriend's mother. A search of his home and a storage facility turned up five rifles, 15 semiautomatic pistols, lots of ammunition, an S.S. uniform, a Nazi flag, blueprints of a vacant lot near Bill Clinton's then-new office in Harlem, and a photo of Kneitel's infant daughter covered in said S.S. uniform and with her finger on the trigger of a pistol. 
Kneitel went to prison for three years. "The reason why I had all the guns and the Nazi memorabilia," Kneitel, who is Jewish, told DNAinfo, "was to fund my daughter's college fund when she got older."
Moving between subway cars was first banned in 2005. People were already skeptical about the rules then, arguing that there were some situations where absconding from a subway car was the only option. The New York Times talked to Beatrice McCants, "who works as a newspaper distributor in Midtown" and "said she was riding a Brooklyn-bound No. 3 train Wednesday when a man began masturbating in plain sight."
I thought, 'I've got to get off this train,' " she recalled. "Now I'm going to get a fine for that, for running from a flasher? I won't pay it!"
Last week, AMNY argued that a similar campaign needs to be waged against urinating on the subway: "we are suggesting that, alongside the campaigns against pole hugging and pole dancing, the MTA tackle this malevolent behavior head-on."