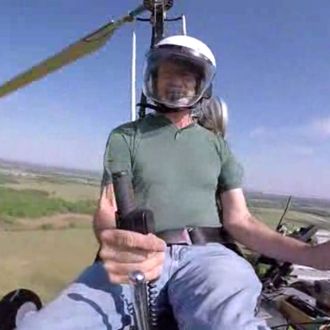 For more than two years, Florida man Doug Hughes has worked on a plan to land his small gyrocopter on the lawn at the U.S. Capitol in order to deliver letters to members of Congress. Today, he finally did it — and, miraculously, he wasn't shot out of the sky by the Capitol Police.
According to the Tampa Bay Times, Hughes hatched the plan as a form of protest against the 2010 Citizens United Supreme Court case, which greatly increased the amount of money that donors can spend on political campaigns. He personally addressed letters to every member of Congress, each of which contain the following message:
"I'm demanding reform and declaring a voter's rebellion in a manner consistent with Jefferson's description of rights in the Declaration of Independence," he wrote in his letters. "As a member of Congress, you have three options. 1. You may pretend corruption does not exist. 2. You may pretend to oppose corruption while you sabotage reform. 3. You may actively participate in real reform."
The Secret Service has known of Hughes's plan for months, and even interviewed him a few times, but ultimately declined to pursue further action. Hughes, a mailman by day, asked the Times to publish the account of his Jeffersonian protest in the event that he managed to pull it off. He knew flying the gyrocopter would mean risking death, but ultimately put more faith in the government than he probably should have.
"I don't believe that the authorities are going to shoot down a 61-year-old mailman in a flying bicycle," he told the Times. 
Lucky for Hughes, his idealism paid off, though he was arrested by Capitol Police. As for whether the stunt will change anything other than Hughes's idealistic outlook, we wouldn't bet a flying bicycle on it.