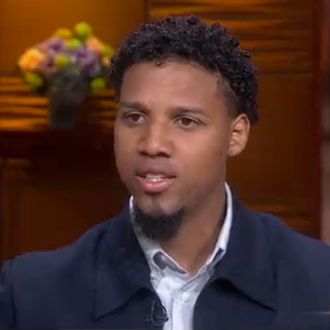 On Wednesday, the man who recorded the last moments of Walter Scott's life — and completely invalidated the description of his death as previously described by the North Charleston police officer who shot him — began speaking to reporters about how he decided to share the video.
"I won't deny that I knew the magnitude of this, and I even thought about erasing the video," Feidin Santana, a 23-year-old Dominican immigrant, told an NBC News reporter. "I felt that my life, with this information, might be in danger. I thought about erasing the video and just getting out of the community, you know Charleston, and living some place else."
On Thursday morning, he told Matt Lauer, "I recorded the video so that maybe he can feel that someone is there," he said. "There were just the three of us in that moment. I couldn't tell what was going to happen, so I just wanted him to know that he's not by himself."
Todd Rutherford, Santana's lawyer, said that his client asked him, "How can I get protection?"
Santana has only spoken on NBC-affiliated programs. Besides Today, he also appeared on All in With Chris Hayes, NBC Nightly News, and Morning Joe. 
Santana first shared the video with Walter Scott's brother, Anthony Scott. Santana attended a vigil for the deceased 50-year-old and told the family about the video. "The video tells the truth," Anthony told Time. "It would not be so hard for us to prove that this man was running away when you get shot in your back. I mean how can you defend that?" 
Michael Slager, the officer who shot Scott, has been charged with murder. North Charleston police chief Eddie Driggers held a press conference about the shooting on Tuesday, crying at one point. "You know, I think all of these officers on the force, men and woman, are like my children," Driggers said. "So you tell me how a father would react to his child doing something like this."
The 33-year-old Slager has been fired, but the department will continue to pay for his health insurance until his eight-months-pregnant wife gives birth.
The police department released many of Slager's work records to the public this week. Yahoo reported that two citizen complaints were filed against him. Two years ago, a man complained that he had been Tasered for no reason. Another time, Slager did not file a police report after investigating a neighbor disturbance.