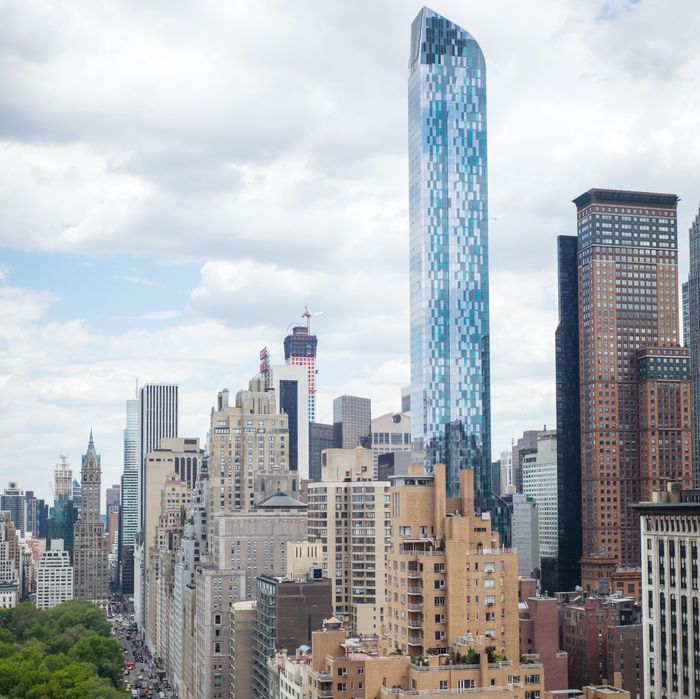 Photo: Robert Nickelsberg/Getty Images
Perhaps the interminable winter is to blame, or the gradually expanding inventory. Or maybe sellers have overreached with their asking prices, lured by reports of record-breaking real-estate sales. Whatever the reason, prices for Manhattan properties leveled off in the first quarter of this year, according to reports released today by the city's brokerage firms, a sign perhaps that the market is, yes, finally stabilizing after years of staggering price increases. According to Douglas Elliman, the median price of an apartment in the borough now sits at $970,000, just slightly under what it was a year ago ($972,428). The average price, $1,732,989, fell 2.3 percent.
More significant, says appraiser Jonathan Miller, who compiled the report, is how over the last three quarters, there has been a year-over-year decline in sales. The number of transactions fell by nearly 20 percent from 3,307 properties closing in the first quarter of 2014 to 2,661 this quarter. Ditto for the new development market, which saw sales drop by 16.8 percent. Inventory is up 5.5 percent. (What a difference a year makes: In January of 2014, Manhattan's market had posted a 27 percent jump.)
So, what's it all about, Alfie? "In 2013 and the first half of 2104, we had this excess demand that began with Lehman and ended with the fiscal cliff of the end of 2012," Miller explains. "We had unusually heavy sales volume." And now, it seems, that surge may be over, and "we're returning to this more sustainable level."
This is especially true of larger apartments, which aren't as popular as they once were. While starter apartments — studios and one-bedrooms — saw their inventory stay pretty much the same while demand for them remains fervent, there are significantly more larger apartments available these days. The number of three-bedrooms rose by 18.1 percent to 919, says Miller; four-bedrooms by 3.2 percent to 650.
Halstead Property saw a similar trend for three-bedroom condos. According to its findings, the only new development segment that saw its average price drop were apartments with three bedrooms or more, from $5,780,864 last year to $5,123,603 this year. Diane Ramirez, Halstead's chief executive officer, says the $4 million to $20 million market has seen inventory creep up. "When you get into the luxury [segment], we're starting to see [the apartment inventory] building up," she says. "They're just being priced aggressively and so they're sitting on the marketplace." Indeed, Brown Harris Stevens saw absorption rates — the length of time it takes to sell properties — increase for three-bedrooms and bigger, from seven months in March 2014 to ten months in 2015. (The absorption rate for smaller apartments stayed pretty much the same or rose by very small increments.)
The lesson here? "We've seen rising prices and there comes a point when the buyer just says it's gone a little higher than [they] want to pay," Ramirez says. "So they're going to look to see if prices flatten a bit." But temper your expectations: The lower end of the market's still pretty spirited. Per the Corcoran Group's survey, "buyer competition, especially for lower-priced units, is significant," with median prices for studios up 2 percent from last year to $450,000, one-bedrooms by 4 percent to $729,000, and two-bedrooms up 2 percent to $1.45 million. (In comparison, the median price for three-plus bedrooms dropped 13 percent.)
Which means while the high-end buyers get a little break, the bread-and-butter buyers still have to elbow each other in the marketplace. The more things change and all that.