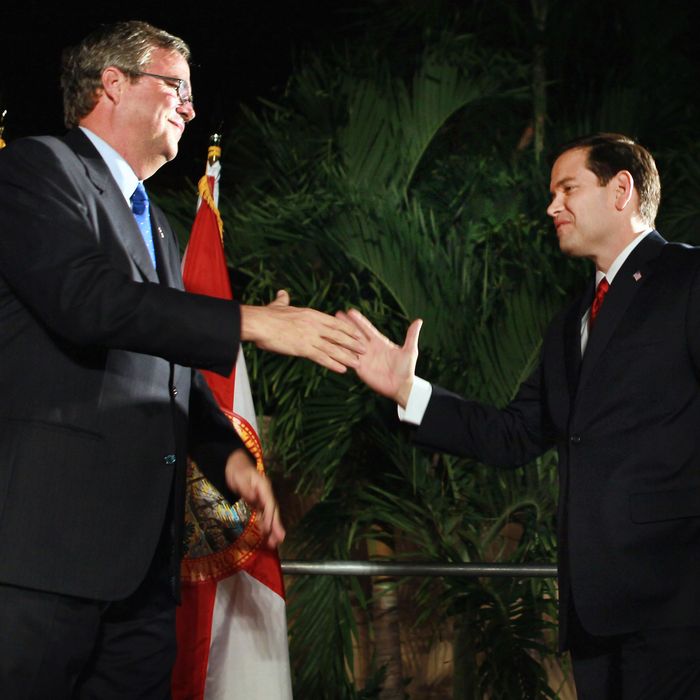 Republican nominee for Florida U.S. Senator Marco Rubio is greeted by former Governor of Florida Jeb Bush during his "Reclaim America Victory Celebration" at the Biltmore Hotel on November 2, 2010 in Coral Gables, Florida.
Photo: Joe Raedle/Getty Images
On the night of Marco Rubio's last major campaign rally, Jeb Bush was onstage to support him, leading the crowd as they chanted his name. Tonight, as Rubio announced his campaign for president at Miami's Freedom Tower, the elder Bush brother was nowhere to be found. Five years ago, when Rubio decided to launch a long-shot bid against Charlie Crist for an open Florida Senate seat, he waited diligently for Bush to make up his mind. "If he were to run, no one would challenge him in the primary — certainly not me," Rubio later wrote in his memoir. When I went to Florida two years ago to write about the possibility of a Bush-versus-Rubio presidential primary, hardly any of their mutual friends and colleagues imagined that this day would come. "I don't think Marco would want to run against Jeb in a primary, the way their relationship is," J.C. Planas, a former state legislator who worked with them both, told me at the time.
But the scenario Bush-Rubio allies were desperately hoping to avoid now seems imminent. "Many of Marco's supporters are his supporters because Jeb pushed them to support him," says Steven Geller, who was Democratic minority leader in the Florida Senate but liked working with Rubio and Bush. "So it's putting a lot of people in an awkward position."
Rubio's decision about whether to run for president pits against each other two competing instincts that have defined his short political career. One is his tendency to be methodical in lining up support: visiting the home of the West Miami mayor when he first ran for county commissioner at age 26 to ask for an endorsement, or deferring to Jeb before deciding to run for the Senate. The other is his tendency to take big risks, like when he jumped into the race against a well-liked governor 35 points ahead of him in the polls and won.
In deciding to run now, he's made it clear which instinct he's going to follow. "I have heard some suggest that I should step aside and wait my turn," Rubio said in his announcement speech. "But I cannot. Because I believe our very identity as an exceptional nation is at stake, and I can make a difference as president."
There's one overarching reason Rubio can't sit out this election: At 43, he thinks he's better positioned than any of the other candidates in the field to fashion himself as the one who offers a generational change. If he has to wait eight years to run, he loses that advantage. It's not just a numbers game, though. Ted Cruz is only a year older than Rubio, and Scott Walker is only three. It's that the other potential GOP candidates have more complicated routes to the White House. Cruz, Walker, and Rand Paul are all tea-party favorites who would have a hard time winning over the broader electorate. Bush would have the opposite problem — tea-partiers and the activist base of the party are already deeply distrustful because of his positions on immigration and Common Core. Rubio, by contrast, backed away from the bipartisan immigration framework after the right turned against it last year, and generally has a much shorter track record on policy than Bush does. His current base of support might be low, but that's the point: He hasn't been defined yet, and he's one of the few potential candidates who has the opportunity to define himself on the national stage before his opponents do.
You can already hear the forward-looking tone his campaign will take in the video he released Friday previewing tonight's announcement: "America is the story of everyday people who did extraordinary things, a story woven deep into the fabric of our society," he says. "Their stories may never be famous, but in the lives they live you will find the essence of America's greatness. And to make sure America is still a place where tomorrow is always better than yesterday, that is what our politics should be about."
If that sounds a little bit Obama-esque (as well as Reagan-esque), it's because Rubio is going to pitch himself as the change-making candidate of 2016, and the Republican best positioned to appeal to the young and minority voters who made up Obama's winning coalition in the last two elections. But the comparisons will only work up to a point: Rubio's candidacy requires convincing a slice of those voters that Obama promised America transformational change and let them down, and to that end he's been working to establish himself as a hawkish foreign-policy voice in an attempt to make him seem better prepared for the presidency than Obama was. "That is definitely the message he'll bring, and he'll bring it more than in words," says Dennis Baxley, a state representative who served with Rubio.
According to BuzzFeed's McKay Coppins, Rubio is planning to work the generational advantage by attacking Hillary Clinton instead of Bush. Obama also hoped to avoid friendly fire in his first primary by attacking President Bush — but that's not how primaries work. "Horrible," Geller said when I asked him to predict how a primary between Bush and Rubio would go. "In Florida, Jeb is the 800-pound gorilla. Marco is the 600-pound gorilla."