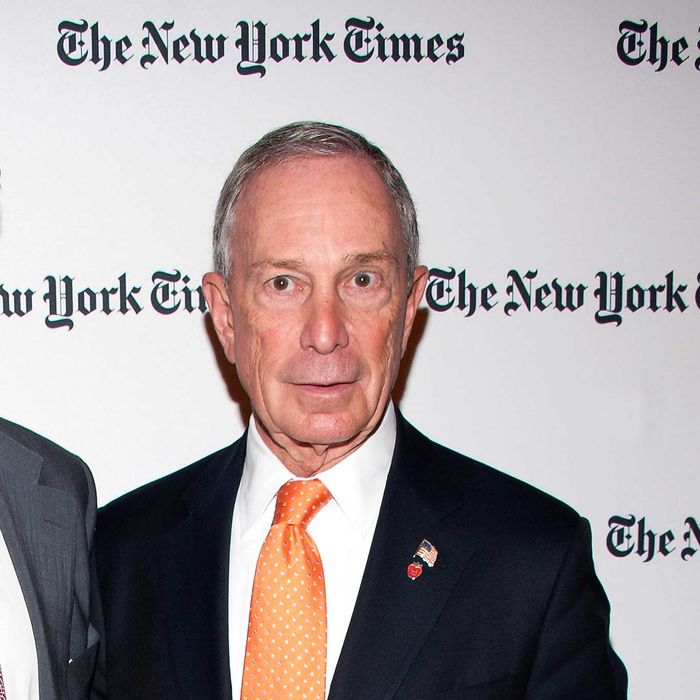 Photo: D Dipasupil/Getty Images
In the 15 months since he ceased to be New York City's chief executive, Michael Bloomberg has made it quite clear he does not intend to spend the rest of his life doing free consulting work, lobbying for gun control, and perfecting his golf game. After Bill de Blasio took over City Hall, Bloomberg reinserted himself into the day-to-day operations of the company he founded, Bloomberg LP, despite having said that he had no intention of doing so. And, earlier this year, New York's Gabriel Sherman reported that the billionaire was interested in buying the New York Times. Now the United Kingdom's Sunday Times claims that his ambition has outgrown New York altogether. According to the paper, Bloomberg is "considering" running for mayor of London in 2016.
Perhaps unsurprisingly, Bloomberg (who, lest you forget, owns a $20 million London townhouse and was recently named an Honorary Knight of the Most Excellent Order of the British Empire) is (supposedly) interested in running on behalf of the conservative Tory Party. "It would be an incredible coup for London if Mike Bloomberg could be persuaded to run for mayor here. His kind of pragmatic, problem-solving leadership is exactly what London needs," said Steve Hilton, described as one of Prime Minister David Cameron's "most trusted advisers." (Cameron is a Tory.)
London's current mayor, Boris Johnson, might also be a fan of the idea: "Mike is an enormous friend of London. He's a great contributor to the city. He's got many supporters and admirers of which Boris is definitely one," said an anonymous source.
So, what could stand in the way of Bloomberg's (again, supposed) wacky plan? Many, many things — but the fact that he's not a British citizen might not even be one of them. While citizenship is a prerequisite for London's mayoral hopefuls, the $745 million or so that Bloomberg has invested in the U.K. would likely speed up the application process. ("We don't think it would be a problem," another source told the Sunday Times.) Hey, it wouldn't be the first time he's thrown some money at this type of problem.