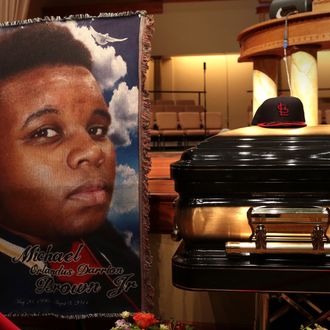 A photo of Michael Brown displayed at his funeral on August 25, 2014.
Photo: Robert Cohen-Pool/Getty Images
Ferguson, Missouri, police officer Darren Wilson was cleared of any criminal wrongdoing by both a state grand jury and the U.S. Justice Department, but now the family of Michael Brown is making one last attempt to hold him accountable for fatally shooting the 18-year-old in August. The family announced on Thursday that they've filed a wrongful death suit against Wilson, former Ferguson police chief Tom Jackson, and the city. The suit seeks at least $75,000 in damages and the appointment of a monitor to oversee the police department's policies on use-of-force for up to five years.
There is a lower standard of proof in civil cases — a preponderance of evidence, rather than proof beyond a reasonable doubt — and the family's attorneys said they intend to present new evidence that will call into question Wilson's version of events. "The narrative of the law enforcement all across the country for shooting unarmed people of color is the same: That they had no other choice," attorney Benjamin Crump said. "But time and time again, the objective evidence contradicts the standard police narrative." He added, "Officer Darren Wilson did not have to use this deadly force on that sad afternoon."