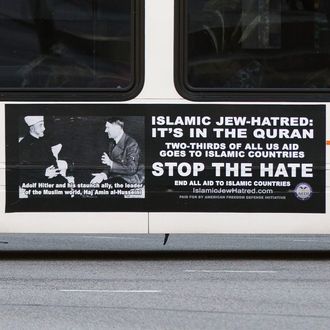 No more AFDI ads
Photo: Matt Rourke/Corbis
It's official: There will be no more offensive "Killing Jews" ads to yank you out of your stupor during the morning commute. At a board meeting this morning, the MTA voted to ban all political ads from appearing on subways or buses, sparking protests from the New York Civil Liberties Union and other free-speech advocates.
The new policy will not allow "ads for political parties, ballot referendums and any ad that is 'political in nature,'" according to the New York Times. Commercial advertising, public-service announcements, and government-funded ads will still be allowed to run.
The move comes following a controversial ruling by a federal judge last week that stated that the MTA must run ads created by the American Freedom Defense Initiative, which feature the phrase "Killing Jews is Worship that draws us close to Allah. That's His Jihad. What's yours?" Banning all political material keeps the MTA from having to launch further lawsuits defending their right to reject the ads.