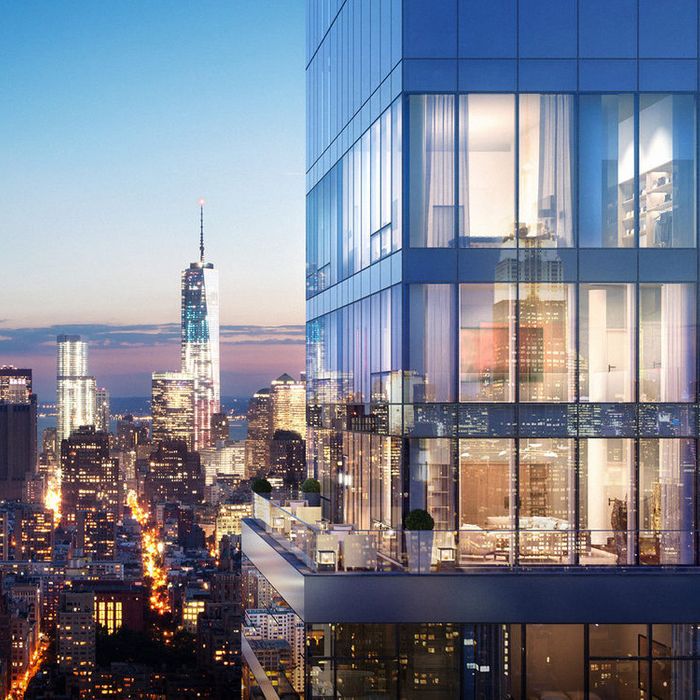 Murdoch's penthouse.
Photo: Rendering Courtesy of Related
News Corp. CEO Rupert Murdoch is trading in his airy triplex near Madison Square Park for a townhouse downtown, according to The Wall Street Journal. The 7,600-square-foot apartment features five bedrooms, five bathrooms, and panoramic views of the city, and is listed for the bargain price of $72 million.
Murdoch purchased the penthouse and another unit on the floor below in February last year for $57.25 million. Though he's keeping that 57th-floor apartment, he's selling the triplex and moving into a recently renovated Greek Revival townhouse on West 11th Street, which was on the market last year for $30 million. He purchased it for $25 million last week.
The five-floor townhouse has an elevator, a media room, and a wine cellar, but it's kind of a downgrade from One Madison, amenities-wise. That star-studded building (Gisele Bündchen and Tom Brady own a unit there) features an indoor pool, fitness center, steam room, and full-time concierge. 
The 84-year-old bajillionaire will make a pretty penny if his triplex gets the asking price; after all, he purchased two apartments in 2014 for $57 million, and he's now hawking one for $72 million. Ah, to be rich and emboldened with divorce-inspired real estate fever.