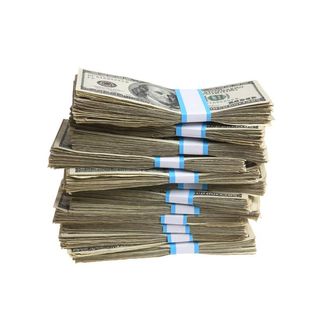 Photo: D. Hurst / Alamy/? D. Hurst / Alamy
The Sunlight Foundation and the Center for Responsive Politics just released a report on the 2014 midterms' top spenders. It showed that 31,976 donors — .01 percent of the entire population of the United States — spent about $1.18 billion in political contributions. Three people from that already small group contributed more than $10 million. This number does not include donations sent to nonprofits that aren't required to report individual donors to the Federal Election Commission. 
The people donating all this money mostly resemble what a stereotypical movie donor conjured from the public's idea of how politics works might look like, if anyone ever made a film about campaign finance. Many of them live in cities, and many work on Wall Street. And nearly 75 percent of them are men. Out of those almost 32,000 top donors, less than 8,000 were women. There was only one woman on the list of top 20 donors in 2014, according to the report — Linda McMahon, a former CEO of WWE who ran an unsuccessful Senate campaign in Connecticut in 2010.
This is nothing new. In 2012, the Center for Responsive Politics reported that women donated 19 percent of all donations given to outside spending groups like super PACs. In the list of top 100 donors that cycle, only 11 were women, and women contributed 20 percent of all donations of more than $95,000. Women donors gave 44 percent of President Obama's total contributions, which is by no means equal, but still more female support than any presidential candidate since at least 1988 had been able to attract.
As a 2013 Politico article noted, the small percentage might have to do with the fact that women aren't bugged for donations as often as men. Regardless, the discrepancy doubtless influences what candidates think potential constituents care about. As Sam Bennett, former CEO of the Women's Campaign Fund told Politico, "It would be naive to say that political giving doesn't influence what gets discussed and what gets talked about."
Women hold a similarly low percentage of elected positions in the United States. According to the latest figures from the Center for American Women and Politics at the Eagleton Institute of Politics, women hold 19.4 percent of seats in the 114th Congress and 24.2 percent of seats in state legislatures. Jelani Cobb explained the quick reason for the gap in The New Yorker last year, "Cracking the network of donors, influential allies, supportive labor unions, and PACs is daunting to any political aspirant. It is far more so to groups that are already underrepresented."