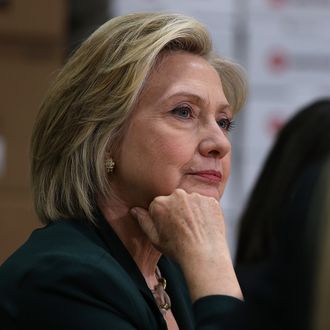 Hillary Clinton in Iowa last week.
Photo: Justin Sullivan/Getty Images
In its first week, Hillary Clinton's presidential campaign managed to remain relatively scandal-free (unless you count the Chipotle incident), but supposedly that's about to change. Earlier this month, Senator Rand Paul claimed that a forthcoming book contained bombshell accusations about donations to the Clinton Foundation by foreign groups, and now the New York Times is backing him up. The book, Clinton Cash: The Untold Story of How and Why Foreign Governments and Businesses Helped Make Bill and Hillary Rich, is due out on May 5, and the paper reports it's "proving the most anticipated and feared book of a presidential cycle still in its infancy."
The Clinton Foundation has already faced scrutiny for continuing to take donations from individuals close to foreign government while Hillary Clinton was secretary of State, and for failing to meet its self-imposed transparency goals. Hillary resigned from the board when she announced her candidacy, and last week the foundation said it would continue accepting donations from foreign governments it's already working with, primarily Australia, Canada, Germany, the Netherlands, Norway, and the U.K.
So far, questions about the foundation's financial dealings have yet to become a full-fledged scandal, but Clinton Cash is said to allege that foreign entities regularly made donations to the foundation, or paid Bill Clinton high speaking fees, and were treated more favorably by Hillary Clinton's State Department in return. Its author, Peter Schweizer, is a former speech-writing consultant to George W. Bush who's written for conservative media, but the Times says his tone is neutral and the book is meticulously researched.
Over the past two decades, there have been dozens of books published about the Clintons' allegedly scandalous behavior, but there's another factor that may make Clinton Cash more than just a juicy best seller. According to the paper, "major news organizations including The Times, The Washington Post and Fox News have exclusive agreements with the author to pursue the story lines found in the book." The claims might not be as entertaining as Hillary hurling yet another object at Bill, but if there's any fact to them, we're going to hear about it.